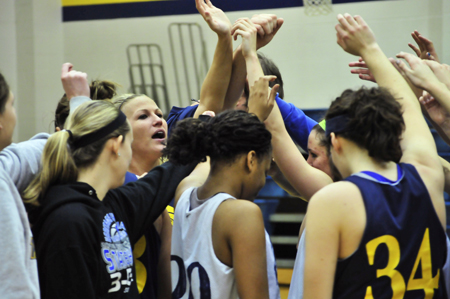 By the time the Webster University women's basketball team could catch their breath, the Gorloks trailed Augustana College 35-20. Although the Gorloks rallied, it was too little too late as they dropped their third straight game to start the season, 70-62, at the hands of the Vikings in Rock Island, Ill., on Nov. 26.
"We got in a hole in all of our games — not just Augustana — which we can't do," senior guard Barissa Ford said. "We have to mix things up more. Teams know we are an outside shooting team. Our guards have to penetrate and create scoring opportunities."
Ford said the Gorloks have become too predictable and opponents know what to expect when they face them.
"Our post play has to pick up," Ford said. "We need to open things up for our outside shooters."
Outside shooting, which figured to be a strength for the Gorloks this season, has instead been a drawback. The Gorloks have shot only 18.5 percent from the arc, while their opponents have shot nearly 36 percent through the first three games. Webster shot a season-low 2 of 14 from the 3-point line against Augustana.
"We knock down 3s every day in practice," assistant coach Jeff Stevens said. "We just have to keep shooting them until we come out of it."
Behind the shooting of junior college transfer Gwen Williams, the Gorloks took a 45-44 lead with a little more than 13 minutes left in the contest. Williams led Webster with 19 points and five steals. But poor shooting and mistakes once again cost the Gorloks down the stretch.
"We went on a 10-0 run and fought back to tie, but we just kept missing chippy shots that we normally make," Williams said. "We had our chances, but we just couldn't put them down when we needed to."
After a short-lived lead, Webster fell behind again, 55-47, before fighting back to tie it at 58-all on a basket by junior point guard Maggie Zehner with 3:40 left in the game.
Second-chance scoring hurt Webster, as the Vikings had several key offensive rebounds they converted into baskets, which helped them put the game away.
"What killed us is they outrebounded us," senior guard/forward Megan Willett said. "On one possession, they had four offensive rebounds and then they finally scored. We can't let that happen."
Willett, who had eight rebounds against the Vikings, said the whole team needs to focus on rebounding to get over the hump of falling behind early. Augustana outrebounded the Gorloks 33-26.
"The five people on the floor when we came back got pumped when we tied it," Willett said. "But then we stopped getting boards and the game got away from us."
The Vikings held a 64-62 lead with less than one minute left, and the Gorloks couldn't answer. Several shots that would have tied or given Webster the lead would not fall.
Webster fell to 0-3 on the season. Next up is a showdown against Westminster College on Nov. 30 at 6 p.m. at Grant Gymnasium. The game opens play in the St. Louis Intercollegiate Athletic Conference and is a rematch of the 2011 SLIAC tournament championship, which was won by the Gorloks 74-58.
"We have had enough of the bad stuff, now it's time for us to get the good stuff," Williams said. "We are starting at 0-0 in conference play. It's a fresh start."
Check out a preview of Webster's game against Westminster College by clicking here.
Share this post