Two first-year Webster University women's basketball assistant coaches — Jeff Stevens and Jordann Plummer — have been reunited after being bitter rivals at two St. Louis area high schools.
Stevens was Kennedy High School's coach from 2003 to 2005. During the same time period, Plummer was a standout guard at Cardinal Ritter High School. Both schools were members of the Athletic Archdiocese Association, so they played each other several times.
Stevens' Kennedy squad won the AAA championship during Plummer's junior year of high school. The next year, Plummer's team captured the title. The two schools split the four games they played against each other.
"I knew whenever we played Kennedy, coach Stevens would put a rotation of three to four girls and play a box-and-one on me," Plummer said. "He really frustrated me. They knew I wasn't coming out, so they kept players coming at me."
At Cardinal Ritter, Plummer was a four-time Missouri Class 3A All-State second team selection, a three-time All-Metro honorable mention and a McDonald's All-American nominee. She scored more than 2,000 career points and averaged 17.3 points, 5.7 rebounds, 4.5 steals and 3.5 assists as a senior.
"I couldn't stand playing against her," Stevens said. "She was the best player in high school I had ever seen."
Stevens' teams won 125 games during his high school coaching career, including more than 100 wins at Kennedy before coming to Webster this season.
"Jordann and I talk all the time how I was 2-0 my junior year against her and she got the best of me her senior year," Stevens said. "It was a great matchup."
Plummer said there is no animosity about their past matchups. She said she had to earn everything she got against Kennedy.
"He still talks about that game we beat them to win conference," Plummer said. "He'd say, 'We let you go off for 27 points,' but I think I did a little scoring on my own."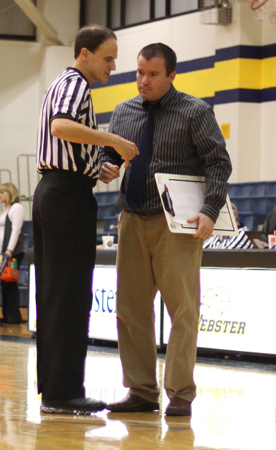 Kate Lane, who played for Stevens at Kennedy and against Plummer in high school, said the rivalry was intense.
"Coach Stevens did not want to give in, but neither did Plummer," Lane said. "We had to be prepared against her — sometimes it worked and sometimes it didn't. It was a chess match."
Lane said Plummer was a tough competitor, but she played the game the right way.
"In four years of playing against her, she was always the best player on the floor and always had a great attitude," Lane said. "She was always a threat and clearly one of the best players in the area."
After high school, Plummer played four years of Division I basketball at Drake University in Iowa, and she started on the team as a freshman. After a short coaching stint at Normandy High School in St. Louis, she made her way to Webster.
"Stevens and Plummer are experiencing the college coaching game for the first time," Webster coach Jordan Olufson said. "They are learning, but we threw them into the fire and they have responded."
Stevens and Plummer spend a significant amount of time not only helping Olufson coach, but also scouting, recruiting and watching a lot of film.
"They both are doing an outstanding job of recruiting and learning the college game," Olufson said. "They are rookies, but they are doing great."
Lane said Stevens is a student of the game and is always talking about basketball or thinking of ways to help his players improve.
"Through Jeff, I saw the huge time commitment he puts into the game, and he is very passionate about the game and his players," Lane said. "Having lunch with him means you'll talk basketball."
Although the rivalry is long since passed, Stevens said he might take her on in a one-on-one game, though he doesn't know what the results would be.
"I don't think Plummer wants anything to do with my range on the court," Stevens said.
Olufson was unaware of the Stevens-Plummer connection before hiring both this past summer. Olufson said he has not noticed the rivalry at Webster, and he has no intention of throwing water on his assistant coaches.
"I know they have a great deal of respect for each other, and they work together well for the team," Olufson said.
Stevens said the coaching staff has one common goal — they want the Gorloks to win another St. Louis Intercollegiate Athletic Conference championship and play in the NCAA tournament.
Stevens and Plummer get their next crack at working as a team when Webster travels to Rock Island, Ill., for a nonconference game against Augustana College on Nov. 26.
Share this post