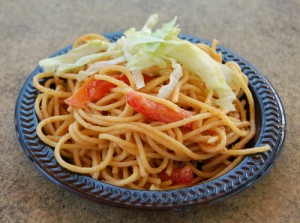 A recipe for Thai peanut noodles:
— 8 ounces spaghetti or linguine
— 1/3 cup peanut butter (creamy or chunky)
— 1/4 cup hot water
­­­­­— ­2 tablespoons soy sauce
­— 2 tablespoons vinegar
— 2 tablespoons vegetable oil
— 1 tablespoon sugar
— Hot sauce or chili sauce (to taste)
— Fresh or frozen vegetables (optional)
— Chicken strips (optional)
Fill a large microwave-safe bowl filled with water and bring to a boil in the microwave. Once boiling, break noodles in half and add to the water. You'll need enough water to cover the pasta. Put in the microwave uncovered and cook for number of minutes the package states.
Stir pasta every 3 minutes to avoid sticking. Once cooked, drain water and set aside. In a smaller bowl, mix peanut butter and hot water until smooth. Add remaining ingredients and stir until blended.
Pour over pasta and mix. If desired add vegetables, like bell pepper, carrots or cabbage, or add chicken strips.
Refrigerator Woes
It happened to me countless times, and I'm sure it has inevitably happened to you. You come home exhausted, looking for a quick and easy meal to get your fix.
After blankly staring into the refrigerator for five minutes, you sadly declare, "There's nothing to eat."
If this has happened to you while living in a dorm, you may have caved, ordering take out and blaming the whole ordeal on lack of experience and equipment.
But not anymore. You're a college culinarian now and, next time, you can get through this dilemma without sacrificing a dime to the delivery man.
If you're in a meal rut, start with the basics. By keeping a few food staples in your dorm at all times, you always have the base for a great dish. Pasta and rice are easy to cook in the microwave and some brands even come pre-portioned in microwave ready packages.
Frozen veggies are cheap and can last for a while if kept frozen; they can easily be added to any meal. Fresh vegetables are great too, but won't last as long. Make sure to use them in a timely manner.
Other staples include, but aren't limited to: oil, vinegar, salt and pepper, peanut butter, cheese, eggs and canned beans. When you've got the basics taken care of, use these tips to add flare to any meal.
— Condiments, spices and sauces are easy ways to jazz up any dish. Hot sauce, soy sauce, ketchup, mustard and sugar are all versatile, and virtually free — Save leftover packets of ketchup, mustard or soy sauce the next time your go through the drive through or order Chinese (hopefully on rare occasions) and snag a few sugar packets on your next Starbucks trip. Staple ingredients, like peanut butter, vinegar and oil can also be used to make sauces.
— Eggs are cheap and easy to cook in the microwave, and can be mixed with almost anything. Try creating an easy omelet with canned black beans, then top with cheese and salsa — or hot sauce.
— Keep precooked or ready-to-use items in your fridge. If pasta is on the menu one night, make enough pasta to use the next day and store it in plastic ware. That way, some of the prep work is already done. Items like chicken strips or cooked sausages can now be found packed, and ready to cook. All you need to do is heat them up, and they can be added to any dish.
— Keep a cookbook or two on hand, or browse the Internet for recipes. Even if you don't have the exact ingredients on hand, you may get inspired to substitute with what you do have.
With all of your staples on hand, try making this week's recipe for Thai Peanut Noodles. And the next time you think you have nothing to eat, take another look. The contents of your fridge are probably more promising than you think.
Share this post