Cats and dogs find home on Webster's campus, owners feel the love from their furry friends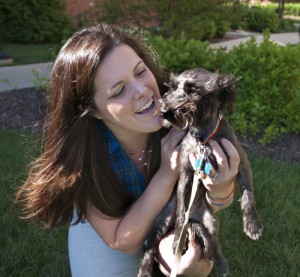 Megan Wetzel and Chris Rice, community directors, have pets to give their campus apartments a homey feel. Brie, sophomore Julie McGinnity's dog, is her lifesaver.
Megan Wetzel and Mackenzie
After a long day working as community director for East and West Halls, Megan Wetzel just wants to return home to someone who loves her. Arriving at her apartment in East Hall, Wetzel is greeted by a long face, tousled hair and an unruly beard to kiss her hello. But this isn't just any friendly face, as the wildly wagging tail will prove. This is Wetzel's year-and-a-half old Yorkie Poo, Mackenzie.
As a live-in Webster staff member, Wetzel's workplace is also her home, making her one of the few people on campus allowed to live with a pet. Wetzel took ownership of Mackenzie shortly after moving to Webster a year ago.
"She's like my life saver," Wetzel said. "When I first moved out here, I knew no one. My fiancé was a six-hour drive away, I didn't really have any friends, I had no family out here, I started a brand new job. So I got her three weeks after I moved here. She helped me transition from my comfortable life back in Ohio."
Before getting Mackenzie, Wetzel had to go through a process of approval with John Buck, Director of Housing and Residential Life. For on-campus approval, pets must be less than 20 pounds, have up-to-date shots, take regular medication to protect from fleas and heartworms and the owner must put down a deposit in case their pet causes any damage to the apartment.
In addition to the standards set by Buck, Wetzel is also responsible for Mackenzie around other people on campus.
"I do like to be mindful of her living on campus, making sure she's not bothering other people," Wetzel said. "I don't let her run into other students' rooms. I pick up after her. I always carry a doggy bag. If she does any damage to the apartment, I have to pay for it. Fortunately, she hasn't done any damage," Wetzel said. "Mostly it's my shoes."
Mackenzie is more than a pet to Wetzel. Because she is deaf, Wetzel is in the process of getting Mackenzie certified as a service dog.
"The dog can help and has helped alert her if someone is at the door or if someone is calling," Buck said. "So that's actually a big benefit for Megan to have that resource."
Before getting Mackenzie, Wetzel considered herself a cat person. But because she is allergic to cats and other animals, she got Mackenzie—a hypoallergenic dog.
"Ever since I got Mackenzie, I think I'm a dog person now," Wetzel said. "She's so cute and she has a lot more personality than most cats do."
Chris Rice and his cats
While a lot of his friends are buying houses and having kids, Webster Village Apartments and MAria Hall  Community Director Chris Rice and his wife Kyle are still living on a college campus. A little off-putting at first, the Rices strive for a "regular life" in another way: their two cats, Hoosier and Goatee.
"Having cats allows me to have some semblance of normalcy," Chris Rice said. "A lot of my friends talk about their kids and having to mow the lawn every Saturday. I talk about my cats."
Like Wetzel,  Chris Rice was permitted to have cats in his apartment because he and his wife live on campus full-time.
"The nature of a live-in professional staff member is a very unique kind of employment arrangement," Buck said. "It is a rare combination of living where you work. A community director like Chris or Megan has a responsibility to respond to late-night emergencies, and they do that often.
"That can be a really difficult balance to achieve. It's hard to separate work and your personal life when you live where you work, so having a pet is something that allows them to have a sense of balance."
The couple took in their first cat, Hoosier (named after the Indiana team), from a shelter in Indiana two years ago. Goatee (named for his facial pattern resembling a goatee) came a few months later in an attempt to calm Hoosier down and provide a friend. The two cats now play together and complement each other.
"Everyone says cats aren't loyal," Chris Rice said, "but I believe cats are extremely loyal once you earn their love. That's why I'm a cat person over a dog person. Plus, I have cool cats."
Having a career like Chris Rice's ultimately comes with sacrifices, such as the grill that Chris and Kyle Rice got for their wedding that has never been used. But Chris Rice feels that those sacrifices are worth it in order to do what he loves.
"(Megan Wetzel and I) love working with students," Chris Rice said. "It's very much at the heart of why we got into this field. Nobody does this job for the paperwork; it's so you can make a positive benefit with students. Being able to help students succeed, that's what we live for."
While Chris and Kyle Rice may not be able to have a house with a lawn to mow on Saturdays and children, they still have a home on campus. Hoosier and Goatee have been an addition to their home.
"I do love them," Chris Rice said. "I talk to them like they're people. They become family."
Julie McGinnity and Brie
Three years ago, Julie McGinnity gained a best friend.
McGinnity took ownership of her dog, Brie, after applying to a guide dog school in New York called Guiding Eyes for the Blind. McGinnity has had glaucoma since birth and is blind. Now, a junior vocal performance and German double major, McGinnity and her five-year-old yellow lab are still inseparable.
"She is my best friend," McGinnity said. "She and I have a bond. It's really hard to explain the kind of bond that we have. I always wanted a dog, but I never really understood what kind of bond we'd form."
McGinnity was matched to Brie based on traits such as daily physical activity, walking speed and temperament. Before receiving Brie, McGinnity had to go through a process with Guiding Eyes for the Blind to make sure she was fit for a guide dog. A representative came to her house and school to see how McGinnity got around without a dog.
"Before you get a dog, you have to show that you can travel," McGinnity said. "Getting a dog isn't like getting a dog and all of a sudden the dog can take you everywhere. You have to know where you're going."
Brie now lives with McGinnity in her apartment on campus. McGinnity has grown accustomed to the extra task of taking care of Brie, but she doesn't mind, because Brie in return takes care of her.
"I don't really think of it as added responsibilities because I've had her so long," McGinnity said. "It's just part of my routine now. She has to be on a really specific food schedule because her stomach is kind of bad. I have to be up at six in the morning to feed her."
Because Brie goes along with McGinnity most places, McGinnity is constantly thinking ahead to the environment she will be putting her dog in. On several occasions, McGinnity said Brie has saved her life at Garden Ave.
As a performance major, McGinnity must gauge whether or not Brie can handle going to concerts and being around large crowds.
"I just have to make decisions based on her, not really based on what I want," McGinnity said. "If she's going to be uncomfortable, then obviously I don't want that."
McGinnity said, however, that usually Brie enjoys being onstage with her when she sings at church and school—and the crowd enjoys it as well.
"She's not really a pet," McGinnity said. "She just does everything with me. We're a team."
Share this post