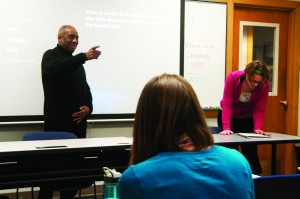 By Josh Coppenbarger
When civil rights became a national topic during the '60s, the students
of Webster University helped play a role in the movement in St. Louis.
"Webster University is a milestone in the civil rights movement," said Bernie Hayes, an adjunct professor in media and communications.
Fraternities and sororities have been in full support of the movement as well as the student government activism that extends off-campus, said Hayes.
"(The civil rights) movement overall has declined and decreased," Hayes said. "(The focus is) sporadic, there's not one group, there's fragments."
Hayes was a radio broadcaster for several different stations around the country for years before he created the first black radio talk show in St. Louis in 19
80. His talk show was able to pave the way for him to become a voice for civil rights.
"The media is not focusing on their movements," Hayes said.
Hayes believes that for civil rights to continue, there needs to be more involvement.
"Activists themselves have to come together to form a coalition," Hayes said.
Hayes is considered to many to be a front leader in the civil rights movement locally.
"Nothing is more important than to have an independent voice," said St. Louis Chapter NAACP President Adolphus Pruitt. "Bernie Hayes has that voice and he continues to use that voice."
Like Hayes, St. Louis legend Norman Seay isalso considered a revolutionist for civil rights. Seay became famous in 1963 when he took part in the Jefferson Bank affair, when the bank changed locations and rid of its two black tellers.
Seay, along with 19 others, protested and were sentenced to 90 days in prison for fighting for equal job opportunities. This event helped end the desegregation of banks and businesses in downtown St. Louis.
Seay noted his disappointment with the current civil rights movement.
"We really haven't moved ahead as roughly as I hoped for our African-Americans," Seay said.
Pruitt said there is a lack of unity.
"Civil rights in St. Louis has not been as aggressive as it should be," Pruitt said. "It has remained in the hearts and minds of the people involved from long ago. (Groups are) too divided to have impact on our region."
Pruitt thinks that civil rights needs to become part of the economic mainstream.
State Rep. Jamilah Nasheed (D-St. Louis) agrees with this statement.
"By allowing African Americans into the economic mainstream will begin to give many opportunities to the community in St. Louis," Nasheed said.
Seay hopes for the civil rights activism to expand to younger generations.
"Now we need new organizations with different people. There is a need for younger people," Seay said. "I will soon be 79 so I don't have the energy to do this again."
Share this post