Despite a lengthy layoff, a junior runner is leading Webster to the conference tournament
By Michael Langston
Contributing Writer
With one race to go before the conference championship, Webster Men's Cross Country ran at the Kollege Town Sports Invitational on Oct. 19. Junior Nathan Freyling lead the Gorloks, but he overcame personal obstacles to get there. The race was his first of the year, aside from a practice race, and he achieved a personal record.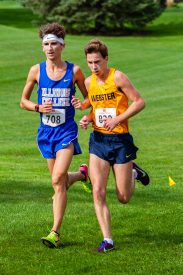 Freyling started out the season with back to back injuries. He said he had a knee problem at the beginning of the season that stemmed from the overuse of his muscles. His legs would tighten up and cause him to limp after running a couple miles. There were some days that his injury prevented him from running at all. He also said he had a lymph node issue that prolonged his time out.
Freyling, the team's returning No. 1 runner, had been one of many injured runners according to head coach Dan Graber. He said they were also without their returning No. 3, sophomore Eli Guzman, to start off the season.
"Getting [the returning runners] back and the entire roster closer to full-strength has been important for the younger guys because it takes the pressure off them," Graber said.
Freyling's road to recovery included a practice race in Decatur, Illinois. He said he used the opportunity to gauge if he was ready to go for the final races of the season.
"I just tried to stay positive. I focused on the team, what I wanted to do. I tried not to think about [the injuries]. I just tried to take it as a workout and that turned out really well."
The freshmen were able to pick up the slack while the injuries healed as freshman Cameron Sakuma lead the team for each race to start off the season. Even though Sakuma was leading by example to start, he still saw Freyling as a leader on the team.
"[Freyling] is always 100% dedicated to training," Sakuma said. "I heard a lot about him coming into the program. He and I were training partners over the summer and he's been one of the best things on this team."
Freyling said that he adopted his style of team leadership from former teammates who have since graduated.
"I just try to bring the team up whenever there are any setbacks. I feel like we can have a great message and team atmosphere that could bring up our team and our bonds, in general," Freyling said.
Freyling said he saw improvement after his practice race, and he said he expected to do well in the Kollege Town Sports Invitational.
"I was expecting to get a personal best because of what I've heard from my coaches saying how fast the course was."
A full-strength Freyling was able to do just as he predicted. He ran the 8K race in a new personal record time of 26:45.0. His effort got him the fastest time for Webster and got him conference Men's Runner of the Week honors, according to Webster Athletics.
With the conference championship meet on Nov. 2 in Louisville, Freyling said he feels inspired and ready to continue on the high of his new personal record.
"I know the team is going to rely heavily on Cam and I to try and guarantee our team a [conference] title. I feel like that would be great for us to win it."
Share this post