"Be loud. We want the whole city to hear us," Brianna Chandler, organizer of Climate Strike St. Louis said.
From the top of the steps of St. Louis City Hall, the Rev. Rodrick Burton of the New Northside Missionary Baptist Church led the crowd in a protest at Climate Strike St. Louis.
"Planet over people. People over profits," their voices chanted.
On Sept. 20, young and old protesters gathered for the 2019 Youth Climate Strike. Millions around the globe marched in solidarity. 
Local youth largely coordinated the St. Louis strike. Organizer Brianna Chandler opened the event with a speech.
"You may have gotten some pushback from coworkers, bosses, friends and family members who don't agree," Chandler said. "However, know that you are in good company because millions of people around the world are striking with us right now."
Young people skipped school and work in cities like London, New York, Paris, Berlin and Toronto participated in the strike. The global efforts have been led by a 16-year-old Swedish girl named Greta Thunberg who delivered a speech to the U.N. Climate Summit a few days after the protest. The speech condemned lawmakers for being complicit in ignoring the ecological collapse around the globe.
The culprit of global warming, according to St. Louis youth organizer Claire Stolze, is capitalism.
"When we talk about climate change, I don't want you to tell me how your veganism is helping save the planet," Stolze said. "I want you to tell me what you're doing to dismantle systemic racism and historic capitalism. I want you to tell me what you're doing to save the most vulnerable to climate change."
Stolze, a 17-year-old high school senior, plans to attend the University of Chicago to study public policy.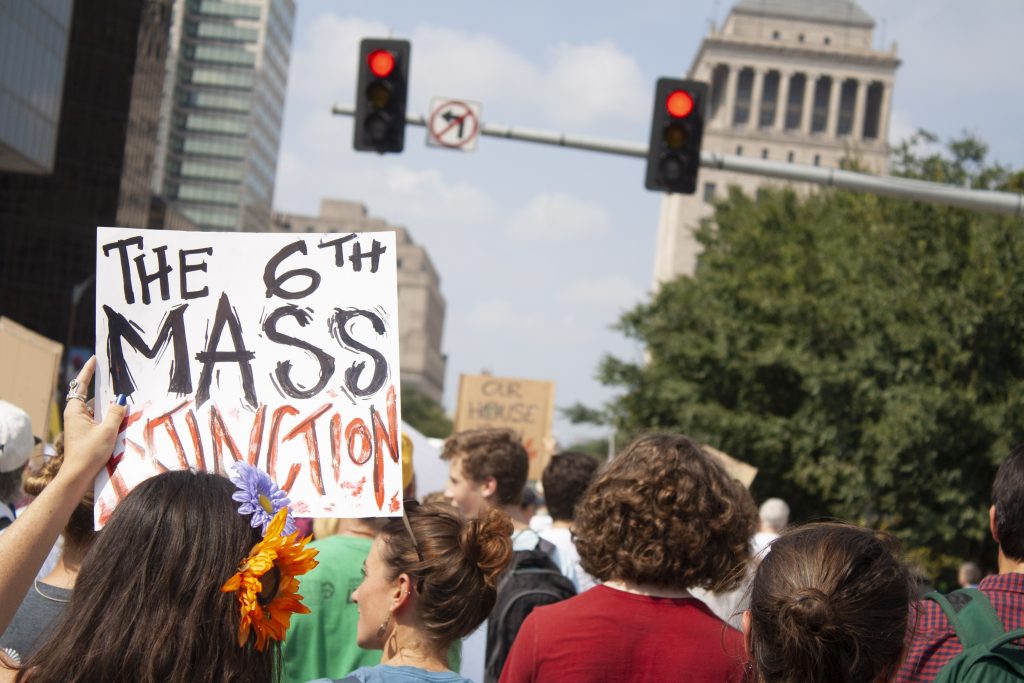 In her speech before the march, Stolze discussed the issues her peers faced attending high school in McKinley Heights. Stolze said people living in low-income areas suffer from corporate pollution and greed, including lead poisoning and mold inhalation. Stolze's comments echoed a report from Interdisciplinary Environmental Clinic (IEC) at Washington University detailing environmental racism in St. Louis. 
"These companies placing industrial sites and dumping pollutants into low-income communities are the same ones mass polluting the ocean and releasing unsustainably enormous amounts of carbon dioxide into the air," Stolze said.
Organizers said climate protests have increased in large part due to a study published in October 2018. The Intergovernmental Panel on Climate Change (IPCC) released a study finding that the Earth's average temperature rose over 1.5 degrees Celsius since official record taking began in the late 19th century. 
The study confirmed the fears of scientists who now believe that climate change is irreversible. The report made Washington University senior Grace Tedder want to take action.
"When I saw the report released in October last year, it was a huge wake up call for me," Tedder said. "This was when I realized that climate change was such a huge issue."
The IPCC also reported that climate-related risks to health, livelihoods, food security, water supply, human security and economic growth are projected to increase with global warming of 1.5 degrees Celsius and increase further if or when the climate reaches 2 degrees Celsius above pre-industrial levels. 
Tedder acts as the hub coordinator for the Sunrise Movement, a national organization of youth activists combating climate change. She said the movement was a non-traditional lobbyist movement using protests, strikes and sit-ins to change policy instead of monetary power. 
Tedder said she became involved because she believes Sunrise takes action. Each city with a Sunrise presence has a hub where recruitment and organization takes place. 
"I'm trying to bring people into the movement and get them to learn some of the basic skills that enabled them to go on and be able to take on leadership roles," Tedder said. "We can grow as a hub and work on different climate action things like the climate strike or putting pressure on elected officials."
Sunrise occasionally hosts weekend leadership trainings to teach youth how to become leaders and learn the skills needed to become organized. Tedder said she hopes it will be a good tool for addressing those challenges moving forward.
Those Affected
In the 2018 IPCC report, populations at a higher risk from global warming included disadvantaged and vulnerable populations, some indigenous peoples and local communities dependent on agricultural livelihoods. The report said developing nations in desert and coastal regions would be the hardest hit by the effects of global warming in the coming decades.
Poverty and disadvantage are expected to increase in some populations as global warming increases; limiting global warming to 1.5 degrees Celsius, compared with 2 degrees Celsius, could reduce the number of people both exposed to climate-related risks and susceptible to poverty by up to several hundred million by 2050.
Climate Strike St. Louis' biggest problem, according to the youth organizers, was the lack of inclusion of these groups.
"I just wanted to let everyone know that our march was not as inclusive, as diverse, as it should have been and that we are actively working to fix that," Chandler said. 
Chandler said one of the goals for the next climate strike was working to get indigenous activists involved. She said she admits it has been a blind spot in past strikes.
According to Tedder, another challenge was getting involved new people in the movement and giving them an active role in advocating for change.
"[Recruitment] tends to bias towards a certain group of people," Tedder said. "So generally, a lot of people who have time and may have felt comfortable in my climate movements in the past. That's not a very good strategy. It's no strategy at all, but it's not a good way to try to involve people who haven't felt comfortable in these spaces to begin with."
Chandler's final address before the march reminded the protesters of the challenges ahead for the climate movement. 
"The struggle to create a more inclusive movement is on-going and absolutely and completely necessary," Chandler said. "Be loud. We want the whole city to hear us."
Share this post