A former Boston Celtic shares his fall from grace with Webster students in an effort to save lives.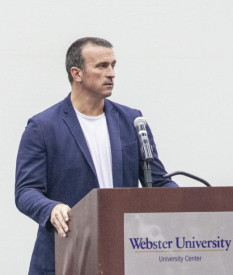 Kealin Triggs
Contributing Writer
Former NBA player Chris Herren said he knew he hit rock bottom after he overdosed and found himself in handcuffs on the way to the hospital.
Herren came to Webster Aug. 27 and talked to Webster's athletes from each of the university's sports teams. For 10 years, Herren has traveled around the country telling his story. He said he wants to convince athletes and teenagers to avoid drugs.
In high school, Herren said he played as the star of Durfee High's basketball team in Fall River, Mass. He then went on to make the McDonald's All-American team in 1994.
These feats helped Herren live his dream as an athlete at Boston College. They also gave Herren the opportunity to play in the NBA. The Denver Nuggets drafted him in 1999. He played for one year before the team traded him to play for his home town in Boston.
"Since I was 3 years old, I wanted to be a Boston Celtic," Herren said. "That should have been my dream come true, but I knew in my heart that it was a nightmare beginning."
Herren said he felt so nervous before his first game as a starter for the Celtics that he desperately needed a hit.
While the rest of his team warmed up, Herren said he sat outside waiting for his dealer. His dealer arrived five minutes before the game started.
"Five minutes go by, and I hear the words I've waited my whole life to hear," Herren said. "'[It's the] 6-foot, 2-inch guard from Fall River, Mass.' but I don't remember it. I have no recollection of it at all because of one pill and a $20 dollar bill."
Herren competed in Italy for a few seasons before drugs forced him to walk away from the sport.
Head coach for Webster University women's basketball team, Jordan Olufson said he watched Herren play as a kid. Olufson became drawn to Herren's story after watching ESPN's "30 for 30: Unguarded" special which aired in 2011.
"The first time I watched the special, I thought it was powerful," Olufsen said. "It is one of those stories that if you watch, it can change their life."
After watching the special, Olufson began working to get Herren to come to Webster. Four years later, Herren agreed to speak to an audience of student-athletes in Grant's Gymnasium.
Herren stood in front of the audience for over an hour telling his story. Lance Hatten, a junior guard on Webster men's basketball team, said Herren's speech shocked him.
"It was motivational to see that [Herren] wants to give back and not let people go through what he went through," Hatten said.
Hatten recalls a story Herren told during his speech. The story is about a girl at another school he spoke to who did not want to ask a question out of fear of her peers laughing at her.
Hatten said this story hit him the hardest. According to Hatten, peer pressure forces individuals to do things out of fear of what people will think. Hatten said he also wants everyone to not be afraid to help. He said everyone should be sensitive to the subject and not make a joke out of it.
Olufson said in order to fix this issue, people must recognize there is an issue. He said everyone should reach out and try to help others.
Herren said when his whole life was taken from him, he made a decision to seek help. His sobriety date is Aug 1, 2008.
"I thank God every day for the bad days," Herren said. "Bad days become lessons, and the beauty of living life in sobriety is that you will soon find the silver lining in all of your sad stories. You become grateful for your worst moments. You forgive, and you allow yourself to be forgiven."
If you or someone you know is struggling with addiction, call Webster's Counseling and Life Development Office at (314) 968-7030 or the Chris Herren Project at (844) 543-8555.
Contact the writer
Share this post