October is National Disability Employment Awareness Month (NDEAM). NDEAM raises awareness for the employment needs of people with disabilities.

Michael Thomas is an English major and a student representative for the Accessibility Committee at Webster University. He said people often overlook someone who has disabilities because they do not understand the struggles or accommodations that people with disabilities go through.

"It takes understanding, takes a conscience effort to say, 'How can I make an effort as an administrator, a student, a teacher to pave the way for people with disabilities in the workforce?'" Thomas said.

Thomas said people are not recognizing the reality of those with disabilities and some people think someone who has a disability cannot function in society or perform tasks at work.
He said NDEAM makes way for people with disabilities who are discriminated against or underestimated in the workplace and shows them they can accomplish assignments.

"The purpose [of NDEAM] is to show and to teach people that the world is filled with a diverse cast of individuals who are capable of doing things, and just because someone is different than you, they might not do things the same way as you, but they are capable of amazing things," Thomas said. "They are skilled, talented people."

Thomas said the Accessibility Committee is sending out weekly information tips for this month. He said some disabilities are not easily visible to the eye.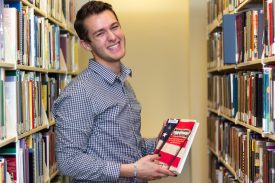 "Not all disabilities involve mobility of [wheelchairs] or others that can be witness out of spite of looking at someone," Thomas said. "It affects more people around us."
Organizations across St. Louis are celebrating and recognizing this month by having events to educate people and employers about the importance of recognizing a person with disabilities can perform tasks like everyone else.

Communications Coordinator for Starkloff Disability Institute Dallas Adams said the founder of the organization, Colleen Starkloff, will be speaking to employers throughout the month to teach them how important it is to hire people with disabilities.
Adams said people with disabilities often get overlooked or employers think they are not capable of performing certain job requirements.

The organization is displaying a poster of a disabled person on the job, and they are providing tips for people who are afraid to ask questions about working with people who have disabilities, Adams said.

"When you are talking to someone who is deaf, people sometimes yell, and we have tips on how to properly interact with a deaf person who can read lips," Adams said.

Adams said the organization is trying to educate people who do not have much knowledge, and they want to gain awareness for NDEAM month by communicating with different employers on  ways to think about strategies to accommodate and employ people who have disabilities.
"[We want] to give able-bodied people without disabilities a view on how to make their workforce or workplace more inclusive just with a smaller person to person interaction," Adams said.

Kathleen Schue, Director of Communications and Public Relations for St. Louis Arc, said that to recognize this month, her office posts success stories on social media and share the stories with employers who are looking for candidates or employers who never hire disabled people.
"A young man [started] in our pre-employment training program, but as he went through the different steps in our training program, he quickly became a natural leader among his peers," Schue said. "He was able to help and participate. Because of his training, he was offered a position at Express Scripts as a pharmacy technician."

Schue said she hears feedback from employers that leads them to believe people are recognizing that someone with disabilities have the skills to compete and work in the workplace.

Erin Suelmann, Executive Director for Down Syndrome Association of Greater St. Louis, said his organization is having different events that focus specifically on down syndrome and NDEAM.

Suelmann said that the organization is trying to break down myths about what it takes to hire people with disabilities and show the accomplishments of people with down syndrome and other disabilities.

Thomas said people with disabilities have a place in the workplace, and some people or employers are missing out on an opportunity because they are not making a way for people with disabilities to be involved as they should be.
"Everyone's reality is different," Thomas said. "Everyone has an enormous amount of potential and ability that can accommodate or to benefit society as a whole."
Share this post