Updated April 24
The Webster University Student Government Association (SGA) released a statement demanding the Dean of Students to release the results of the 2018-2019 SGA election results.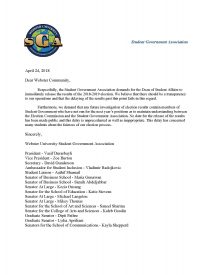 "SGA members thought the delaying of election has jeopardized students' trust in the democratic election process and we needed to voice their concerns," SGA President Vasif Durarbayli said.
The statement demands the presence of SGA members who are not running for the following year during any future investigations to maintain understanding between the Election Commission and SGA. The statement was published on SGA's Facebook page during their closed meeting on Tuesday. All members signed the statement.
"We believe that there should be a transparency to our operations and that the delaying of the results past this point fails in this regard," the statement said.
Published April 20
The results for the SGA election have been put on hold for the meantime.
SGA Adviser and Dean of Students John Buck said information has been brought forward with concerns about the voting process this year.
SGA voting occurred this week and Buck said  the tradition has been to announce the results on the Friday after voting has closed. A review of the voting process will be conducted as a result of these concerns.
"I will be conducting that review. In order to maintain the integrity of that process, I will not publicly discuss any of the reasons why one is being conducted," Buck said.

The Journal will update the story as more information becomes available.
Share this post