Allison Levin started to research rookie hazing in Major League Baseball (MLB) after she saw the Chicago Cubs dress up as characters from "Anchorman" in May 2017. The Cubs dressed up as a form of team bonding, but Levin saw a bigger problem with baseball culture.
Levin is an adjunct faculty member at Webster University and teaches Communications and Sports Management. Her project focused on the negatives of hazing, but three months after she began her research, MLB released a new policy on the hazing of players. Levin then focused on determining if the new policy would work.
MLB's policy banned "requiring, coercing or encouraging" players to dress as women. It also banned players from dressing as anything offensive to someone based on race, sex, nationality, age, sexual orientation, gender identity or other characteristics.
Former MLB players, such as Latroy Hawkins,  were against MLB's new policy and did not think hazing was a bad thing. Levin disagreed.
"It might be funny for the veteran [players], but I can't imagine a situation where every single rookie feels like they are being accepted," Levin said. "It's intended to be uncomfortable for them."
C.J. Lee will enter his fifth season with the Gorloks baseball team this year. Lee said there is a fine line between hazing and joking around.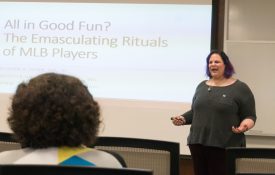 "I have, you know, been caught up in guys cracking jokes and playing silly games or stuff like that," Lee said, "But I've personally never felt that it was meant to bring me down."
Lee thought the reason hazing has gotten worse is people are getting used to it. Lee said he did not  think the Gorloks baseball team had a problem with hazing.
Levin presented her research last Thursday afternoon at the second annual Faculty Research Symposium. She highlighted the presentation with the title: "All in Good Fun? The Emasculating Rituals of MLB Players."
Levin said MLB players emasculated rookies to make them pay their dues and become part of the team. Levin claimed the problem is excluding the sports community to dominant, heterosexual males.
In her presentation, Levin referenced "The Out List," a documentary on people of the LGBT community. Former NFL cornerback Wade Davis was part of the documentary and said coming out was hard because of how gay people are viewed in the sports world.
"The idea that I could be gay and a sports player didn't match because the image of a gay man was always feminine," Davis said in the documentary. "I deemed myself as masculine. I was a man's man."
Levin decided to work toward making a book based on her research. Levin said the book will be devoted to the barriers of entry to sports and sports fandom, specifically for women to be a part of the sports world. Levin does not think there is an easy way to fix the barrier between sports and the LGBT culture.
"One of the easiest ways that stuff would start changing is if the right player came out as non-binary, gay or bisexual," Levin said. "And that player would have to be popular on the media and on his team."
Levin said she hoped to finish her book within the next year.
Share this post