The Gorloks' Athletic Hall of Fame will add five more inductees with the upcoming 2018 Hall of Fame class. Headlining this year's exclusive group will be: Molly Farrell Orlando, Scott Spinner, Paul Zellmer, Jeff Todt and Alex Fritts.
Helping propel Webster University's women's volleyball team to prominence from 1993-96, Orlando finished her career as a fixture in the history books. Orlando finished her career with top ten finishes in school history in attack percentage (first), kills (ninth), kills per set (third) and total blocks (second). Orlando will represent volleyball as the lone inductee this year.
Along with her statistical success, Orlando assisted the team when she helped guide them to their first St. Louis Intercollegiate Athletic Conference (SLIAC) championship in 1994. The Gorloks were able to put together three consecutive winning seasons with Orlando on the team and finished at a combined 61-20. Orlando finished as the 1993 SLIAC Newcomer of the Year, and made SLIAC All-Conference First Team in every season.
Scott Spinner comes in as the most recent member to be inducted in the Gorloks Hall of Fame. Similar to Orlando, Spinner was a constant sight in the Gorloks history books, as the all-time leader in games played, assists, and minutes played. Spinner also finished two games shy of the record for most games played in Gorloks' men's basketball history with 104 games. Men's basketball head coach Chris Bunch spoke positively of Spinner's impact on the team.
"We were very successful during his time here," Bunch said. "We were very lucky to get him here."
Spinner ended his career as a three-time SLIAC All-Conference member, and the 2006-07 Student Athlete of the year. He will join Paul Zellmer as the second basketball player to make the Gorlok Hall of Fame this year. Zellmer joins the Hall of Fame class as one of the most successful scorers in Gorlok history, with top five all-time finishes in total points (third), scoring average (fourth), assists (fourth), three-point field goals made (first), and steals per game (first). Zellmer was a member of the 2000 Gorloks team, which won a SLIAC Championship and advanced to the NCAA Division III Tournament. Helping guide a 12-win turnaround from 1996-97 to 1997-98, Zellmer will now add a Hall of Fame distinction to his Gorlok career.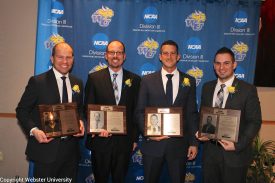 Former Gorlok men's basketball head coach Lance Randall said that Zellmer's ability to impact the game on both ends of the floor helped make him a productive player during his time as a Gorlok.
"He got recognized around the league for his ability to hit long bombs," Randall said. "But his passing and his defensive playmaking prowess was as good as anybody that I've ever coached at the pro level."
Randall also talked about Zellmer's unique combination of size, athleticism, and two-way approach to the game. As evidenced by his top five finishes in both steals and points, Zellmer looked to make an impact on both ends of the floor.
"He was a long guard and pretty good athlete," Randall added. "He could shoot from pretty much anywhere on the court, but he was also a big steal guy. A lot of times that's not the same combination in Division III."
Jeff Todt will join his father, and 2013 Hall of Fame inductee, Marty Todt with the 2018 Class Induction. Todt earned a National Soccer Coaches Association of America (NSCAA) All-Region and SLIAC First Team All-Conference in both 1992 and 1993, which was a factor in helping the Gorlok men's soccer team a contender throughout the 1990s. The Gorloks' soccer team had produced only two winning seasons in nine years. Jeff Todt helped the 1992-93 team to a 8-7-2 record. The following season, the Gorloks improved to a 15-6 record, which was the most successful in university history until 1999 under head coach Mardy Todt.
Jeff Todt finished his Gorloks career seventh all-time in points per game, tied for 9th in game-winning goals, and 3rd in shots per game.
The final inductee of the 2018 Gorlok Hall of Fame comes in the form of Alex Fritts, a multi-time SLIAC All-Conference soccer player from 1996-1999. Fighting off multiple knee surgeries, Fritts owns a part of the Gorloks history books as both an assistant coach and a player.
During his playing days, Fritts was the team captain of a Gorloks team that had a 26-5-3 record in the SLIAC. By the end of his career, he was a SLIAC All-Conference Honorable Mention in 1998 and 1999. Fritts also played five games in Holland, when the team traveled abroad in 1999.
The five inductees will be officially recognized on Saturday, Feb. 10th during halftime of the men's basketball game. The official ceremony will take place in the University Center. Established in 2010, the Gorlok Hall of Fame has now reached 39 total members.
Share this post