Webster University's chess team clinched its fifth straight national title at the 2017 President's Cup Collegiate Chess Tournament in New York.
The President's Cup win gives coach Susan Polgar her seventh straight national collegiate chess title.
Besides winning five in a row with the Webster team, she also won two titles at Texas Tech prior to her tenure at Webster. Texas Tech is where she founded the Susan Polgar Institute for Chess Excellence (SPICE).
Polgar said she credits the team for her success since they trained hard and were focused for the competition.
"Well first of all, I am very proud of our students, their dedication and sacrifice to the program," Polgar said. 
The tournament was held on March 25-26 and also included St. Louis University, Texas Tech and the University of Texas-Dallas.
SPICE assistant coach Paul Truong said the team focuses on physical and mental fitness so they can get through a long event like this.
"You can play 12 hours and 59 minutes of great chess, and one minute can ruin everything," Truong said. "So you have to focus the entire time. You have to be able to fight and have no drop off."
Grandmasters Vasif Durarbayli, Liem Le, Ray Robson and Alex Shimanov were the four starters at the tournament.
Truong said the strongest individual performance came from Shimanov during the final game of round two against the University of Texas-Dallas. He said if Webster did not win that game, the streak of winning every tournament match during the past five years would have ended.
"That was the match that was tied after three games," said Truong. "So his game was the last game and it went to 97 moves. That was like two marathons. Literally his game finished at ten o'clock at night."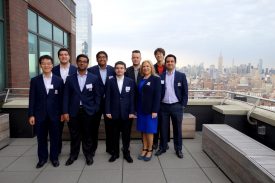 Ashwin Jayaram is a grandmaster on the chess team, but served as an assistant coach for the President's Cup. He said Webster faced some tough competition in this year's tournament.
"I was helping during the training part and during the tournament," Jayaram said. "We prepared against specific opponents and had analyzed specific positions. During the tournament, I would ensure that the players could rest more while I prepared against their opponents."
With Webster University's win at the President's Cup, they broke a tie with the University of Maryland-Baltimore County (UMBC) for most consecutive championships. UMBC won four straight titles from 2003-2006.
Joel Deweyer is the business manager for UMBC's chess team. He said he discovered was it was easy to become a victim of their own success.
"When you are all about championships, and you won four or five in a row, people stop caring," Deweyer said. "It is not as big of a story as it once was.
Deweyer said his team has competed with and against Polgar's teams several times in tournaments such as the Pan-American Championships and the President's Cup.
"At some level, the success of Webster is phenomenal," Deweyer said. "What Paul and Susan have built is commendable and admirable. People should be looking for ways to duplicate that structure."
Share this post