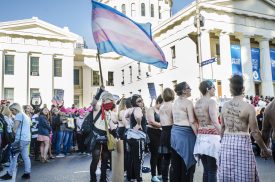 Women, men and children marched for women's rights on Market Street in downtown St. Louis Saturday morning, protesting the policies of President Trump. Webster University Adjunct Terri Reilly, Psychology Professor Linda Woolf and Film Professor Kathy Corley all marched while repping Webster gear.
Reilly said she was there to put her First Amendment rights into action.
"Coming here, exercising our First Amendment rights, is one of the fundamental properties and tenants of being in the United States," Reilly said.
Marches took place not only in St. Louis, but globally. The concept began with the Women's March on Washington, which attracted over one million protesters. The other marches around the globe, including the St. Louis march, were intended to coincide with the Washington, D.C. march.
The marches were inspired by a 1913 event in Washington D.C. when 5,000 women marched for the right to vote just one day before Woodrow Wilson's inauguration, according to the The Smithsonian Magazine. Six years later Congress passed the Nineteenth Amendment, giving women the right to vote.
Fast forward 104 years, and the women's march has gone worldwide. Corley, who has been attending protests since she was a teenager for causes like Earth Day and protesting the Vietnam War, said she believes this is the most diverse crowd yet.
"I have never in my life seen the diversity in a crowd that I've seen here," Corley said. "It's great to see people of all different races, sexes, genders and ethnicities… it's absolutely America."
According to the Women's March on Washington website, the mission of the march was to "send a bold message to our new government on their first day in office, and to the world that women's rights are human rights."
Reilly said she has concerns about the country's democratic values under the first term of President Trump.
"This is about democracy, and it's to make sure that democracy is ensured for the next four years," Reilly said.
According to the St. Louis Post-Dispatch, the women's march expected 10,000 attendees but ended up with about 13,000, police said. A march organizer estimated the crowd to be 20,000.
The marchers were in luck with the weather – the day had a high of 65 degrees in the middle of January. Woolf said was grateful for the temperature.
"The weather is beautiful today," Woolf said. "God is here, and she's smiling at us."
Share this post