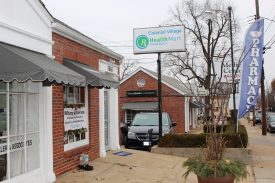 Webster Groves police reported on Dec.12 an armed robbery occurred at Colonial Village Pharmacy, 7945 Big Bend Blvd., in the Old Orchard shopping district just east of Webster University.
The Webster-Kirkwood Times reported the suspects, two men, were similar in description to two men from a Dec. 3 armed robbery of Neels Pharmacy southwest of campus in Crestwood.
Pharmaceuticals and cash were stolen from both pharmacies. Also, one of the two male suspects wore a red-hooded sweatshirt in both incidents. At Neels Pharmacy, the gunmen forced four employees and two customers into a backroom, according to the Crestwood Police Department.
In the Webster Groves case, the suspects displayed semi-automatic handguns before ordering the pharmacist to open the business' safe. Video surveillance footage was not available at either scene and in each case, the suspects fled on foot.
Officers from the Webster Groves Police Department (WGPD) and surrounding agencies searched the area, according to the report.  Crimereports.com lists a previous robbery on the 7900 block of Big Bend Blvd. in the early morning of June 18; the block is home to small retailers.
The suspects in both robberies remain at large. WGPD stated the Colonial Pharmacy incident is under investigation.
Share this post