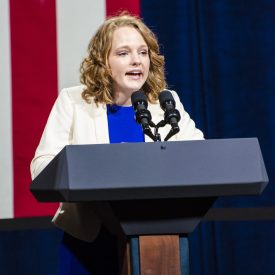 Webster student and College Democrat Megan Price stepped onto the national stage this week — and shared it with Vice President Joe Biden.
Price spoke a rally for Democratic Senate candidate Jason Kander on Oct. 28 alongside Biden, where speakers celebrated millennials' contributions to politics.
The rally was held at the Pageant in the Delmar Loop.
Price, the president of the College Democrats at Webster, was recruited to speak at the event after she organized Kander's visit to Webster campus earlier in October.
In her speech, Price expressed her confidence in Kander because he listens to students and empathizes with the struggles they face.
Price said many students, including herself, work multiple jobs while attending school and are still in debt.
"Knowing Jason has plans to support students, including refinancing loans and expanding grants, is vital to me," Price said. "Jason knows that we aren't the only ones being crashed by student loan debt, our working families are too."
Kander's speech also emphasized millennial's contributions to politics.
"It is a generation focused more on ideas than ideologies," Kander said.
Price said Kander, who at 35 is the first millennial elected to statewide office in Missouri, exemplifies the generation's real characteristics.
"[Kander] can properly represent the great citizens of Missouri once again. That's the type of millennials I know, and soon Washington D.C. will also," Price said. "If Washington thinks our generation isn't capable of greatness, they are in for a surprise. Because Jason Kander and millennials are here, and together we have the spirit to fix the Congress and change the future for the better."
Price also spoke about the impact of  Biden's political career, including sponsoring the Violence Against Women Act.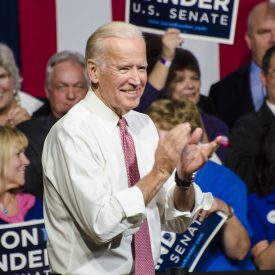 "I don't have to worry about domestic violence and sexual assault being anything less than serious crimes with law enforcement and the court on our side," Price said.
She said Kander will "carry that torch" from Biden by continuing to make strides for women's rights and to fight for equal pay for equal work.
Webster Political Science major Scott Lunte was one of the people in the crowd onstage, standing behind Biden and Kander.
"[Price] really did a great job articulating the concerns of millennials in this election," Lunte said. "It's because of people like her that we are a generation that is coming out in force to stand for what we believe in and make political change."
Webster student Andie Murphy was excited to participate. She waited in line for hours to get in.
"I am here for all of them [Price, Kander and Biden] equally," Murphy said.
Webster student Jared Campbell took time off from work to participate in this rally, both for the opportunity to see a current vice president up close and to support Price.
"It just goes to show that with hard work and putting in a lot of time and effort, which Megan has, comes rewards. She earns it and deserves it," Campbell said.
In his speech, Biden told stories of the different view he had of young people due to visiting war zones, where millennials joined the army and fought for their country, risking their lives.
"When I hear people say millennials are spoiled, I want to gag them," Biden said. "The generation many of you represent, Jason represents, is a remarkable generation."
Share this post