Webster University graduate Caroline Amos' dream came true when, after graduating from college, she was cast as Hamlet in Hamlet and Puck in A Midsummer Night's Dream for the Shakespeare Festival St. Louis Education Tour.
Amos first saw the tour perform when they came to her middle school. She saw them once again in high school.  The tour's purpose is to travel to multiple Missouri schools, performing Shakespeare plays. She became fascinated with the plays and Shakespeare.
Amos said one of her favorite things about Shakespeare is the language.  She believes Shakespeare's writings are meant to be translated , something she has studied for a long time.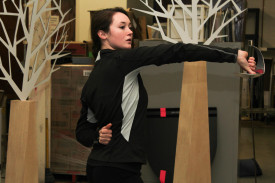 "I really love when a bunch of people get together with a ton of books and we spend 30 minutes arguing about what a word means," Amos said.
Amos said that Shakespearean language is a puzzle that she enjoys solving.  She said the many resources made about what his language means has challenged her in ways that modern text has not.
"I find it [Shakespeare] easier for me than most other art forms," Amos said.
History of Shakespeare
Joining the Education Tour is not the only experience Amos has with Shakespeare.  She previously performed in A Midsummer Night's Dream for the Repertory Theatre of St. Louis in the role of Hermia and for the Conservatory of Theatre Arts in the role of First Fairy.
She also participated in the Great River Shakespeare Festival's productions of Romeo & Juliet as Juliet and Much Ado About Nothing as Ursula.
Amos joins four other actors from around the Midwest for the tour.  She will take her productions of Hamlet and A Midsummer Night's Dream to different schools around Missouri beginning in early February.  The tour will last for four months.
Head of the Conservatory's Performance Program Bruce Longworth previously directed Hamlet for the Festival back in 2010.  He also directed Amos in the Conservatory production of The Country Wife.
He said a keen appreciation and strong affinity for language is the key for to performing in Shakespearean plays.  He said actors also have to be up to performing "life or death" plays such as this.
"It takes a good deal of courage, a good deal of curiosity and she's [Amos] got both," Longworth said.
Amos said it is exciting for her when people ask about what role she's playing in Hamlet, because people assume she is playing the female role of Ophelia, and not the typically male role of Hamlet.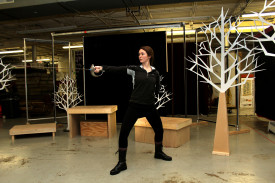 She said Hamlet is the dream role for any actor.
Amos said there are many great male roles out there that she has a particular interest in.  In this version of the play, Hamlet is "equal parts male and female," according to Amos.
The Conservatory's Assistant Professor of Voice and Speech Joanna Battles is the director of the Education Tour's production of Hamlet.  She said that audiences often have a fixed image of what Hamlet should look like.
"I know that we've often seen Hamlet as a man most likely in his late 30s or so," Battles said.  "I think that is done because it is such a monster of a role."
In Battles' mind, she pictures Hamlet as a lot younger, probably a freshman in college.  She sees him as someone who is very sheltered and has not been able to develop as a human being.
"To make him younger opens up that moment of when boy becomes man," Battles said.
She said she sees many feminine qualities in the character.
"He's so thoughtful," Battles said.  "The way that he really breaks down the problem…lends itself to a more feminine quality as well."
Battles gave Amos advice while she was a student at Webster, but did not work with her to the extent other directors have.  When Amos auditioned for the role, Battles knew she was the right choice.
"Caroline is starting to become quite the Shakespearian actor," Battles said.  "She really understands the language.  She really makes sense of it and is able to bring a lot of herself to it."
The draw of acting 
Amos said having free time is the worst thing for her, such as  the two weeks between her last gig and her current work with the Festival.
"You have an attraction to something [acting] that is just indescribable," Amos said.
Amos said she is particularly drawn to period dramas and has an interest in the past.
She believes Shakespeare is still studied today because the characters are incredibly relatable even years after they were conceived.
"In Shakespeare, characters say what they mean and mean what they say," Amos said.
Amos said that her parents said she should consider just minoring in acting.  As she acted more, her parents believed she could double major in acting.
They eventually saw that she wanted to act full time.
"My dad always says, 'If you're just going to be an actor, you may not be rich in money, but you'll be rich in happiness'," Amos said.
Passionate people
Amos said acting helped her form relationships with people in much more caring environments.  She worked a catering job for a short period of time after participating in the Great River Shakespeare Festival, which she described as "the worst time of my life."
She wondered why she could not be happy with the present moment.  Then, she realized what it was.  She was missing relationships where "everyone is invested in every little thing you do."
"I found it so unfulfilling because I'm someone who feeds off of working with passionate people," Amos said.
Conservatory professor Kat Singleton taught Amos during her freshman year.  She also served as Amos' academic advisor for that year.
They reconvened senior year when Singleton served as the director of Amos' Senior Showcase, where Conservatory seniors head to New York to present their work to professionals in the industry.
"Getting in here [Conservatory] is a tough deal," Amos said.  "She has a lovely commitment to the process."
She said that work ethic Amos has is what makes her succeed particularly as a Shakespearian actor.
"There's a lot of work to be done in a contemporary piece, but there's even more work to be done in a classical piece," Singleton said.
Amos said, after these next four months of touring, she will have a better idea of where she would like to move and settle down.
She is torn between Los Angeles, Minneapolis and New York.
"That's going to be in the back of my mind for a long time," Amos said.
Amos said that she is just going to focus on the here and now, working on the art form that compels her most.
"I take a step back and realize just how incredibly lucky I am," Amos said.
Share this post