Both Eden Theological Seminary and Webster University are considering their next steps after the Webster Groves City Council denied the university's request to use buildings on Eden's campus last month.
Eden President David Greenhaw called the city's decision "unwarranted." He said he found it disturbing the city was telling Eden how it could or could not manage its campus.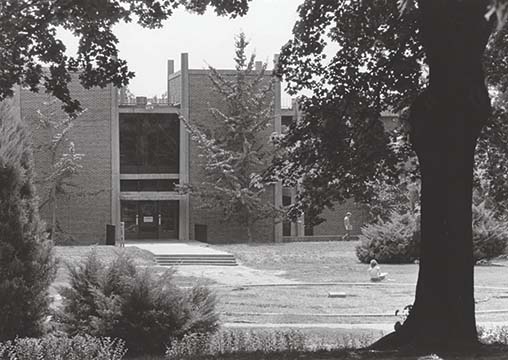 "They've hurt us with this decision. They've hurt the hard-earned generosity of all those good church people who've helped support Eden Seminary," Greenhaw said. "And they didn't do it with good cause."
Greenhaw said his impression was the city's decision resulted from its concern about Webster University.
Since 1969, Webster University and Eden have been partners and shared parts of each other's campuses.
"The institutional relationship has remained uninterrupted," Greenhaw said. "And I intend it to continue for as long as I can see. I think that's our intent as a school."
According to Webster Groves' zoning code, when voting on a Conditional Use Permit (CUP) councilmembers consider five areas: an increase in traffic hazards, increase in fire hazards, adverse effect on character of the community, adverse effect on the general welfare of the community and if it is an overtax of public utilities. Greenhaw said the city's decision was steered towards other concerns regarding Webster University rather than from those five areas.
"To be more restrictive than those five areas seems to me unreasonable and unwarranted," Greenhaw said. "The city has elected to be more restrictive."
On Tuesday Aug. 20, Webster Groves City Council voted 4-3 against Bill 8804 — a bill which would have allowed Webster University to use two buildings on Eden Theological Seminary's campus and demolish another.
Webster University spokesperson Patrick Giblin said the university is still reviewing its options.
Eden Seminary's board meets in October. Greenhaw said the city's decision regarding Webster University using land on Eden's campus will be a topic of the board meeting.
"It's not good stewardship to have buildings not used. And therefore, good stewardship means trying to find a way to do something about that," Greenhaw said.
Greenhaw questioned why the city put limitations in place last year when Eden submitted its master plan. Eden submitted a CUP, requesting permission to sell or lease 11.8 acres of its campus to 10 vendors, a list which included Webster University. City Council approved the ordinance with amendments that placed restrictions on to whom Eden can lease and sell.
At that same meeting, Council Member Kathy Hart recommended the university again pursue educational zoning. If the university switched to educational zoning, it would be required to update its master plan frequently. And the university would have to go through as many steps in requesting approval for changes as long as the changes were outlined in the master plan.
Greenhaw said Eden moved to Webster Groves in 1924.
"The idea that we have to have special permission (CUPs or a zoning change) to do what we've done historically is a little bit disturbing," Greenhaw said.
Eden and Webster University Partnership
In 1969, Webster University and Eden entered into a library partnership. They shared space in Luhr Library. This partnership occurred not too long after Vatican II, a meeting in which the Roman Catholic Church discussed cultural changes and made changes to the church.
"A new openness between Roman Catholics and Protestants took place (after Vatican II). We were excited at Eden Seminary to enter into that partnership and to find a way to overcome the distance and difference that had taken place for years," Greenhaw said.
Greenhaw said he thinks Webster University is a gift to the community and to higher education. He added that the university makes education more accessible.
"I'm happy to have them as a partner," Greenhaw said.
Share this post