Martha Davis-Goldstein was assistant coach of the Webster University men and women's tennis teams for the last three seasons. During her time the team won two St. Louis Intercollegiate Athletic Conference Championships. This year she will take over all responsibilities for the team as Webster's first women's tennis head coach.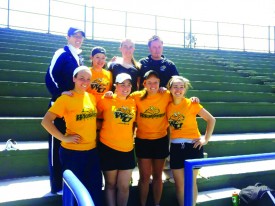 Davis-Goldstein is resurrecting a strategy that helped to bring the Gorlok women a SLIAC title in 2012. She is in the middle of planning a fall season for her team.
"(The fall season) will get things started right off the bat," Davis-Goldstein said. "I want everyone to get to know each other with the couple newcomers that we have."
This will only be the second time the women's tennis program has participated in a fall season.
Davis-Goldstein has been in the Webster athletic department since 2010, where she was an assistant to the Athletic Director until 2012. For the past two years she has managed the Webster Groves Tennis Center- Webster's home tennis courts.
Michael Seiner served as head coach for both the men and women's tennis teams the past eight seasons. He accepted the role as men's soccer head coach this year so Davis-Goldstein relieves him of responsibilities to the women's team.
A tennis player herself at Simpson College (Iowa), Davis-Goldstein said this wasn't a job she had been actively pursuing.
"It's been a natural transition to this position," Davis-Goldstein said. "It was on my mind but it was just a natural transition at the perfect time."
Now as a head coach she said she has more of an "intrinsic" feeling about her team.
"I've always had a very good relationship with all the players," Davis Goldstein said. "I'm looking forward to treading the waters  with my players."
For the fall season only one match is scheduled, that is against McKendree University (Ill.) on Oct. 11. She is still talking with Missouri Baptist University to schedule anther match sometime in September.
Share this post