The Webster University men's tennis team set a total of three school records on Thursday, April 11 on its way to a 7-2 victory over Principia College (Ill.) in Elsah, Ill.
The accomplishments include the team setting the single-season record in wins with 15, and the Gorloks still have a chance to add to that total with four matches left to play in the regular season. Additionally, senior Ricky Eaves set two individual records of his own. Eaves got the 50th doubles win of his career, which is a Webster record. He also was able to record his 15th win of the season — a single-season record that dates back to 1986.
"It's a great accomplishment," Eaves said. "I'm proud of myself, but I still got a couple of matches to go."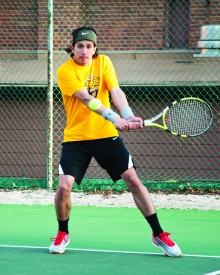 The Gorloks began their match with the Panthers by getting the victory in all three of the doubles matches. Seniors Agustin Villalba and Francisco Cortez set the tone in doubles play with a close 9-8 (7-5) win. Eaves and freshman Travis Blair were dominant with a victory of 8-1 in doubles, and seniors Diego Alarcon and Josh Sellmeyer followed suit with an 8-1 win as well.
"That's why (with winning all three doubles matches) we've had a little more success this year than maybe past years," coach Michael Siener said. "We've just been a little bit better in doubles each and every match. If you can win three doubles or win two, it gives you a big time advantage in singles."
In singles play, the Gorloks dropped their first two sets as the Panthers came back to tighten the match 3-2. After Cortez lost his match at No. 1 singles 2-6, 0-6, No. 2 Alarcon lost a close matchup 3-6, 6-2, 1-6. But Webster was able to rebound by getting the victory in the final four singles matches that were left.
Villalba won his singles match at the No. 3 spot 6-3, 6-2. Blair continued Webster's success by defeating his opponent 6-1, 6-2 at No. 4. Eaves and Sellmeyer also came away with victories in their sets in singles play at No. 4 and 5, respectively.
The win over Principia helped Webster maintain the No.1 spot atop the St. Louis Intercollegiate Conference standings. Greenville and Principia are both tied for second place, both with a 2-1 record in the SLIAC. Webster is now 4-0 in conference play this season.
"Us being seeded first is huge because if we would have lost tonight we would have been the second seed and would have had to play Westminster first (in the conference tournament)," Siener said. "That's been the team we've always kind of struggled against.
"(Principia) was a pretty important match to win tonight just as far as seeding, Siener said. "We're so close, and one, two and three (in the conference standings) are pretty tight."
Despite being undefeated in conference Webster still hasn't officially locked up the No. 1 seed in the SLIAC. The Gorloks will have to wait to till they play Fontbonne University — their final conference matchup of the season — on Sunday, April 14 at 1 p.m. at the Webster Groves Tennis Center.
The Gorloks have already defeated Fontbonne earlier in the season by a score of 9-0.
"We are not going to stop fighting, and we haven't stopped fighting," Eaves said. "We are going to continue to do what we need to do in order to accomplish our goals."
The victory over Principia moves Webster's overall record 10 15-2. Next, the Gorloks will travel to Bloomington, Ill. to face off against Illinois Wesleyan University at 12:30 p.m., and Augustana College (Ill.) at 3:30 p.m. on Saturday, April 13.
Share this post