After more than two years of renovations and delays, the Webster Groves Public Library is preparing to open its doors once again at 301 E. Lockwood Ave. Currently, the library is located at 3232 S. Brentwood Blvd., but will vacate the temporary space for the opening on Monday, Dec. 3.
"It's what we call a soft opening," said Tom Cooper, director of the library. "Basically we just open the doors and let people come in, but there won't be any kind of big event until the grand opening the following Saturday, (Dec. 8)."
Cooper said the renovations for the library were mostly related to space. The new additions to the original structure will double the square footage from 11,000 to 22,000. The expansions will also provide space for a children's room as well as increased access to computers.
Tina Lombardi, a desk clerk at the Webster Groves Public Library for more than two years, said she "gasped" when she saw the new addition last Friday, Nov. 16. Lombardi, who worked for the St. Louis Public Library for 22 years, said she is "in love" with the new addition to the building.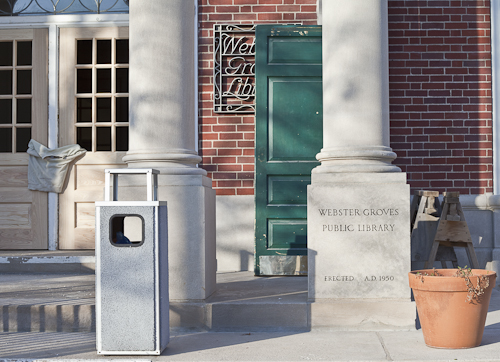 "It was the first time we saw it, you know, completed," Lombardi said. "It's just beautiful — the skylight, the space. It's a wonderful addition to our building."
The renovations were delayed more than six months when the original contractor defaulted on the project midway through because of "financial and legal troubles," Cooper said. The replacement contractor, Demien Construction Co. of Wentzville, completed the remaining work as scheduled in about a year.
Cooper said he was "thrilled" to see the library near completion. He had been working on this project since he arrived as director of the library more than seven years ago.
As a separate taxing entity, the new addition to the library was funded through an increase in the library district tax rates instead of through the general funds of the city of Webster Groves.
Tax increases had to be approved by the city once the specifics for the renovations were in place. Such construction projects require environmental impact and traffic studies. Projects also call for meetings with the public and surveys from the residents of Webster Groves.
"I graduated from Webster (University) back when it was Webster College," Cooper said. "After 26 years of working in libraries, the chance to be director here in Webster Groves was something of a homecoming for me."
The grand opening of the library is scheduled for Saturday, Dec. 8, Cooper said, and will feature a flag raising, a tour of the new facilities and refreshments.
The weekend before the opening, the library will conduct a "garage and book sale," according to Lombardi. Materials not moved back into the original location as well as donated books will be sold for cash from Nov. 24 through Nov. 27 from 9 a.m. to 4:30 p.m. All proceeds will go toward the public library.
"I like helping people and providing a service," Lombardi said. "Our new library is going to meet the public's need, and I think that is helping people."
Share this post