ValDeane Faires greeted her tabby cat as she walked into her kitchen for breakfast at 5:30 a.m. Normally, ValDeane wakes up at noon. But it was Election Day, and she wanted to beat the long lines.
"I'd be up for no other reason," she said.
Her grandson, Phillip Faires, boiled water over the blue flames of a gas stove. ValDeane sat and waited in her blue and white floral-printed nightgown for Phillip to serve her breakfast — a banana, a slice of peanut butter and jam toast, and green tea. Campaign ads played on the living room television between news broadcasts.
"If you weren't here, I'd have to be in a nursing home. You're a good nurse," ValDeane said to Phillip.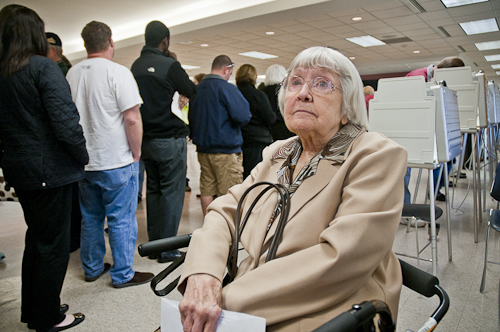 "Well, thank you, grandmother. You're a pretty good patient most of the time," Phillip replied with a smile.
ValDeane sipped her steaming green tea.
She didn't go to sleep any earlier than her usual midnight bedtime. And she said she won't come home and nap because when she's up, she's up for good.
ValDeane is 96 years old. During the early-morning hours of Tuesday, Nov. 6, she prepared to vote in her 19th presidential election.
The first presidential election ValDeane voted in was in 1940, when she voted for Franklin D. Roosevelt — the president credited for getting the Untied States out of the Great Depression — to have a third term.
"You don't have very many men like him," she said.
During the Great Depression, ValDeane worked at a factory and made $10 a week. Her husband, Boyd Faires, also worked in a factory but made $25 a week. The two married in 1936 and had two children, Barbara and Boyd.
Later in life, ValDeane graduated from Washington University in St. Louis with an undergraduate degree in education and a master's in social work. She retired in 1982 and managed a food pantry for 20 years. In addition, ValDeane taught Sunday school for 40 years. Her Christian values have overlapped with her political views.
More than the presidential election, ValDeane is worried about Congress and the fights within it between Democrats and Republicans. ValDeane said she wants the two parties to stop acting as enemies and work more like friends. She is concerned about what Congress could do to her social security.
"I'll pray for them," she said. "That's all I can do."
Video by Gabe Burns
ValDeane drank her last sip of green tea and changed in her bedroom. The minutes passed, and Phillip checked on her.
"How's my gal doing?" he said.
As she finished getting ready, Phillip prepared for the trip to the polls. ValDeane registered for an absentee ballot, but when she received it, the presidential candidates were not on the ballot. That left her with no choice but to make the trip to the polls.
Phillip waited for his grandmother, a Democrat.
Phillip brushed her hair then helped her into the passenger seat of a white rental car and packed her walker, which doubles as a wheelchair, in the backseat. The day before, Phillip rented the car just for Election Day, which cost him $75. He bikes normally, and ValDeane stopped driving at 93.
They made the less-than-five-minute drive to the Shrewsbury City Center and parked in a handicapped spot. The line was approximately 70 people long, and the voters stood on the sidewalk. Phillip pushed ValDeane in her wheelchair to the end of the line, and they waited in the mid-40-degree chill.
"It's the same old thing," ValDeane said. "It's our duty as citizens."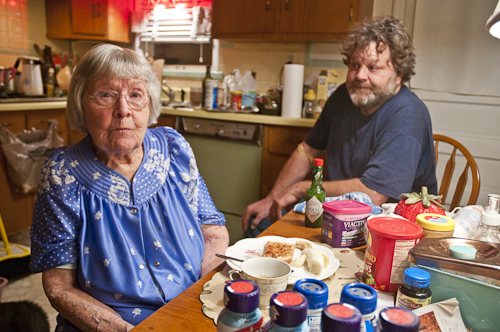 Little time passed before a man ahead in line let ValDeane and Phillip jump in front of him.
They walked inside the building. Phillip let his grandmother sit by the doorway while he continued to walk in line.
A woman in line strolled a baby into the city center.
"From the cradle …" ValDeane said as she pointed to the baby, "… to the grave," she added as she pointed to herself, laughing.
Because ValDeane was already sent an absentee ballot, she was required to fill out an affidavit. She wrote her first and last name, address, the last four digits of her social security and her birthday.
"Jan. 7, 1916," she said to herself.
"1916," said an election board official. "Wow."
She turned in the affidavit. After the official made a  phone call, she could finally vote for the 19th time. ValDeane sifted through the bottom of her brown purse and pulled out a magnifying glass to help her read the ballot.
Phillip led ValDeane to a long table, and they sat at the end. With the help of Phillip and her magnifying glass, ValDeane filled in the ballot's bubbles.
During the evening of Nov. 6, ValDeane sat at home and waited for the results. Regardless of the presidential winner, she said she feels both Barack Obama and Mitt Romney will do the best they can.
"I have confidence in both those men in making the nation what they want it to be," ValDeane said. "I think those men are both good, Christian men who will do what they can do."
Share this post