Webster University received an "F" grade in the fourth annual "What Will They Learn" study, which evaluates colleges and universities on general education. Webster's grade was the lowest of any school in Missouri.
The 2012 study, released by the American Council of Trustees and Alumni (ACTA), analyzed more than 1,000 schools in seven categories — composition, literature, foreign language, U.S. government or history, economics, mathematics and natural or physical science.  Each school was assigned a letter grade that correlated to the number of required classes which fell into ACTA's criteria.
—"A" was given to schools requiring students to take courses in six or seven of the categories.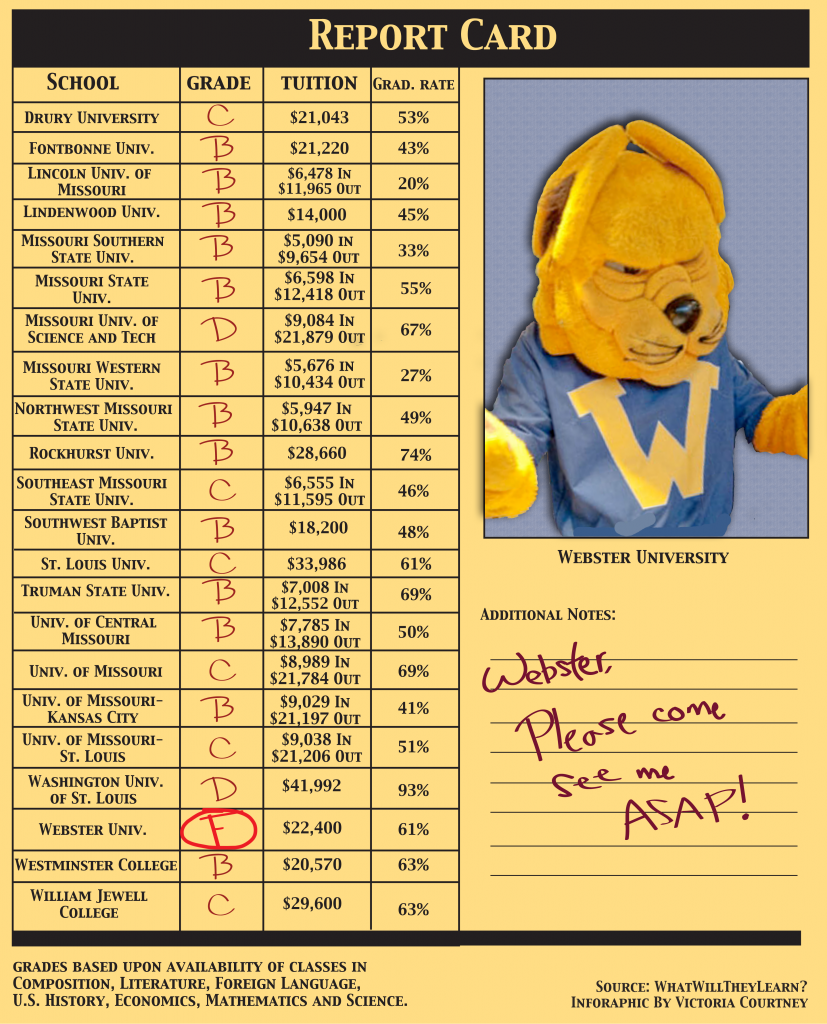 —"B" was given to schools requiring four or five of the categories.
—"C" was given to schools requiring three of the categories.
— "D" was given to schools requiring two.
—  "F was given to schools requiring either one or none of the categories.
ACTA Policy Director Michael Poliakoff, who directed the study, said the ACTA created the criteria along with a "panel of professors and scholars."
"We looked carefully at what would define college level work … based on our overview of what colleges and universities have required, as well as a review of what employers have recognized as things that they most need from college graduates," Poliakoff said.
He added that employer information was obtained in the form of employer surveys.
Professor Bruce Umbaugh is the director of Webster's Global Citizenship Program (GCP). Developed last year, the program instituted a new general education curriculum for incoming freshmen as of 2012.  Umbaugh said the "What Will They Learn" survey is based on an antiquated view of education.
"In my view, and I think in the view of the majority of the faculty that approve the GCP, their (ATCA's) approach is rather backwards-looking," Umbaugh said. "What we're trying to do is very forward-looking and future-oriented."
He said students should be prepared for a global job market, and not one specific career. For instance, an acting major should take a course in economics.
"What we've learned from the Bureau of Labor Statistics is that on average, a person between the ages of 18 and 46 will change jobs over 11 times," Poliakoff said. "For an institution not to guide students through requirements to develop the broad foundational skills that will allow that person to move effectively to the challenges of career and community is really a disservice."
Poliakoff said the 2012, "What Will They Learn" study was based on Webster's previous nine-category general education program, not the new GCP curriculum. Umbaugh believes the new program is a great improvement.
"We tried really hard to design a system that allowed students a range of choice… without falling victim to something that I think the ACTA rightly criticizes," Umbaugh said.  "When      you're prepared to count 60 percent of the courses the university offers as general education, then you really don't have a program anymore. There's no coherence."
The new GCP general education curriculum requires students to select 30 hours of courses from six knowledge areas. Of those 30 hours, three hours must be devoted to each of the following skills: written communication, oral communication, critical thinking, intercultural competence and ethical reasoning.
Umbaugh said although the GCP requirements are better for students, they may only satisfy the composition requirement of the ACTA study — meaning Webster would still receive a failing grade.
To improve its grade in the study, Poliakoff said Webster would need to cut down on required course options.
"We see this at many institutions. There's a broad menu of distributional requirements rather than a carefully constructed set of core requirements," Poliakoff said. "(Webster) would have to be more directive about the core skills."
Umbaugh said while some families may share the values of the ACTA, not all should.
"There are some families that are very traditionally minded, and for those families, it's probably a pretty good guide," Umbaugh said. "Most families shouldn't have that conception of education, and we're happy to talk with them."
Share this post