A $5 million plan to renovate historic Eden Theological Seminary buildings will bring the institution one step closer to the sale or lease of its green space at the corner of Lockwood and Bompart avenues.
The space, which consists of a large field and several dozen mature trees, also houses approximately 40 Eden student apartments in need of renovations. The seminary plans on improving Schultz Hall, a historic building on the quad of the campus that is "underutilized," said Eden President David Greenhaw.
"We want to maximize our space while we downsize," Greenhaw said. "The logical step is to make improvements to Schultz, where we have lots of unused space, and to vacate the other residencies."
Schultz Hall currently has a small number of student apartments and classroom space, but less than 50 percent of the building is used, Greenhaw said. The three residences currently housing students are farther from the quad and are not historic buildings. These include North Hall, South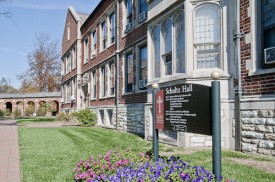 Hall and Goetsch Hall.
"Schultz Hall can last another 100 years if we invest properly in renovating it," Greenhaw said. "So why not make improvements and then sell or lease those other buildings? It just makes sense."
Schultz is in need of repairs to multiple windows, improvements in the air and heating systems, as well as other repairs to gutters and tuck-pointing. Eden will also repair other buildings on the quad. All buildings scheduled for renovation are officially designated as historic.
At the Oct. 10 collaborative meeting of Eden administrators, Webster University administrators and Webster Groves city officials, Greenhaw said at least one donor has already expressed interest in funding some of the renovations. Implied funds will need to be paid for entirely by fundraising.
Greenhaw declined to identify the donor or other interested parties and said the fundraising process was "ongoing."
Most of the plans for repairs can be found in Eden's master plan, which was submitted to the city of Webster Groves in August but was not officially approved. The city "accepted the master plan as informational," according to Ordinance 8753. The ordinance outlined new regulations for Eden in repairing, selling or leasing its property.
Greenhaw said he hopes to complete all the repairs and move all residences in three years. He said he wants to sell or lease both the green space and the buildings together. While Webster University has right of first refusal on any Eden property sales, President Elizabeth Stroble said, "(The university doesn't have a) plan for that corner because we don't own it" at the Oct. 10 meeting.
Share this post