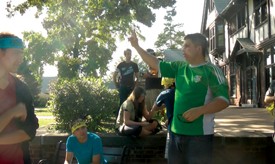 Tyler Jensen puts on his sunglasses and flips up the hood of his jacket. He walks at a brisk pace, glancing in every direction to check his surroundings.
He wears a blue bandana around his wrist from a previous semester's game of Humans vs. Zombies (HvZ).
He can't wear the fall 2012 bandana for the game because the game's moderators (MODs) chose Jensen as the original zombie (OZ). The rule is the chosen OZ can wear an old bandana or no bandana at all, but cannot wear the game's current one.
Jensen, a senior music education major, slips through the library doors and heads to the fire exit stairwell to the third floor. He quickly breezes through the rows of bookshelves and quietly slides into a study room. Sitting at one end of the table and quietly folding another blue bandana from a past semester is Molly Brennan. She also cannot wear the current bandana because she too was chosen as an OZ. This semester is the first at Webster University where the MODs chose two OZs.
"I was told by the MODs, 'You're one of the OZs,' and I was like, 'What do you mean one of the OZs?'" Jensen said. "Then they told me Molly was one, too, and I just got really pumped because we know each other and we know how each other plays this game. So the minute I got back to my apartment, I was in contact with her to plan."
HvZ is a week-long, live-action, role-playing game. Players who are "zombies" tag "humans" for the "kill," but the game can't start without the OZ — or in this case, OZs.
"The OZ's role is to spread the infection and then can build up a zombie army," said CJ Mertzlufft, one of the MODs.
Jensen has been a participating player of HvZ for four games. He said he has put his name in to be selected as the OZ every time. Brennan has done the same and this was her third game.
"I just always do it. I never think it's going to be me, but I always put (my name) in," said Brennan, a sophomore studio art major.
Each game, the MODs try to come up with a new plot twist to keep the players on their toes. This year, they wanted to make an even more challenging game, and creating two OZs was an option. It was put up for a vote, and a majority voted "yes" for two OZs.
"We thought two OZs would be fun because we've always had only one, so having two is just one of those things to have another surprise for players, and they wouldn't expect it," said Mertzlufft, a sophomore film production major.
The MODs chose the OZs. They usually choose people who have played the game before and are good at strategy. Mertzlufft said these qualities were the reasons Jensen and Brennan were chosen this year. He said Jensen created a name for himself as a leader when he led the human pack, "Noble 7," in past games. Brennan has a reputation of being a good and stealthy zombie.
"We found out that Molly was a very good zombie player last year, especially. … She'd just sneak around and pretty much stalk people and get tons of kills. She is probably one of the highest-ranked zombies in the school," Mertzlufft said. "Tyler had wanted to be OZ for a while. … Being OZ was something he wanted to do because he's pretty much done everything else in the game."
Jensen and Brennan complemented each other well as OZs, the two said. After finding out it was the two of them as OZs, their strategy was for Jensen to be the one to make the first tags and Brennan to lay low.
OZs typically try to keep their identity a secret so humans don't suspect them being a zombie or even a player, which makes it easier for them to collect tags. Jensen did make attempts to remain anonymous, but he said it wasn't as big of a concern for him. The two figured that when people found out about Jensen being OZ, it would be easier for Brennan to get more tags because no one would suspect her. The strategy worked for the first couple days, but after Brennan started tagging, word got out.
"Everybody knew there were two OZs, and everybody knew that it was Tyler and Molly. But not everybody knows who Tyler and Molly are," Brennan said.
Jensen and Brennan said there are perks to being a human, and there are perks to being a zombie. Jensen said there's no paranoia being a zombie like there is being a human, making the game a lot easier. Brennan liked the challenge of being a human.
"Both sides have their ups and downs," Brennan said. "For everyday life it's nice to be a zombie because you get to stalk people, but to be a human there's more of a risk factor."
Share this post