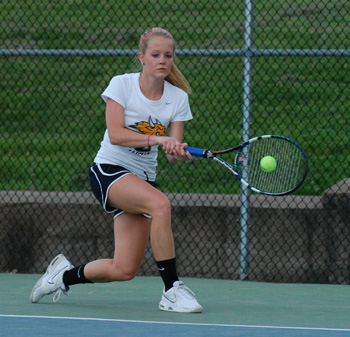 Click HERE to view The Journal's pick for 'Best Coach'
Senior Allison Tungate went 18-3 in singles play and helped the Webster University women's team win the St. Louis Intercollegiate Athletic Conference tournament. Tungate will leave Webster as the all-time singles and doubles wins leader.
Tungate has won 57 matches in her career, which is 13 more than the person in second place — her twin sister, Paige Tungate. Allison Tungate has a career doubles win total of 51 — five more than second-place Paige Tungate.
While Allison Tungate has been extremely successful on the court, she may be more accomplished in the classroom.
Allison Tungate earned her undergraduate degree in political science from Webster in three years, as well as her public relations minor. She is currently enrolled in Webster's graduate school studying legal studies. Her undergraduate GPA was 3.94, while her graduate school GPA sits at 4.0.
Allison Tungate was named to the SLIAC All-Academic team her sophomore and junior years, and she expects to be named to it again her senior year. She has also won Webster's Scholar Athlete award.
"In the classroom, I'm competitive with myself," Allison Tungate said. "I don't like to fail, just like I don't like to fail on the tennis court. The discipline I have in tennis as far as practicing, that's kind of translated into my studies where I dedicate plenty of my time and energy towards doing well. I give my 110 percent best like I do on the tennis court. My studies come first, but it's also good to have an outlet to go to."
After graduation, Allison Tungate plans on attending the University of Missouri's Law School with her twin sister.
"I'm really leaning towards Mizzou just because I want to stay here in Missouri," Tungate said. "My sister is really sold on it, and I always envisioned myself going to law school with my sister."
Runner-up: Loren Douglass, basketball
Click HERE to go to the navigation page of The Journal's 2011-2012 Athletic Awards
Share this post