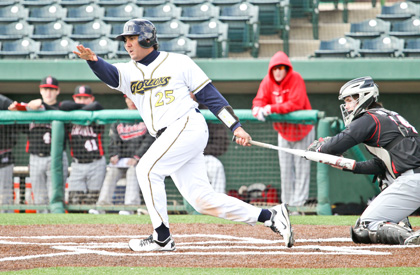 Click HERE to view The Journal's pick for 'Female Newcomer of the Year'
Alex Kazmierski didn't know what to expect in his first year of baseball at Webster University. The junior right fielder had never played at the NCAA Division-III level. He spent his freshman year at Lewis University, a Division-II school in Romeoville, Ill. He then played his sophomore season at Triton College, a junior college in River Grove, Ill.
Kazmierski has shattered whatever expectations he had coming into his first season at Webster.
"You set goals coming into every season," Kazmierski said. "I did set goals for myself, but this year has been beyond what I thought was going to happen."
Kazmierski ranks near the top of several offensive categories for the Gorloks (26-10 overall, 18-2 St. Louis Intercollegiate Athletic Conference). He leads the team and is second in the SLIAC with a .633 slugging percentage. Kazmierski's six home runs are the most for a Webster player. His .339 batting average, .453 on-base percentage, 26 RBIs and 12 doubles all rank second on the team.
Kazmierski didn't play much as a freshman at Lewis. He said this helped him become a better student of the game and is one of the reasons he's having a successful first season at Webster.
"It comes with time, especially being more of an upperclassman," Kazmierski said. "I've paid my dues as a freshman and sophomore. When you watch the game, you educate yourself just sitting and watching. My freshman year I learned so much, and I barely even played. You have to look at that as a positive."
Runner-up: Tanner Rabb, golf
Click HERE to go to the navigation page of The Journal's 2011-2012 Athletic Awards
Share this post