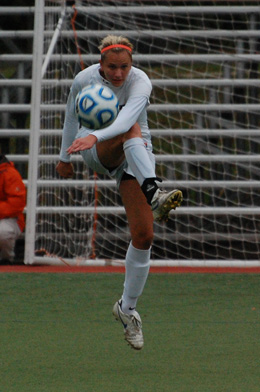 Click HERE to view The Journal's pick for 'Outstanding Male Scholar Athlete'
After she completed her senior year of high school at St. Joseph's Academy in St. Louis, Ally Nikolaus decided to attend the University of Mississippi on a soccer scholarship.
Nikolaus played in 18 games and started three during her 2010 freshman season as a Rebel. But Nikolaus said she didn't enjoy her time playing soccer at Ole Miss, as she described her teammates as very "serious" and "uptight."
Nikolaus elected to transfer out of Ole Miss. A week before the fall 2011 semester began, Nikolaus decided to attend Webster University. When she visited Webster, women's soccer coach Luigi Scire, who also works in the admissions office, offered Nikolaus a spot on the team.
Nikolaus hadn't played soccer in 10 months, but she decided to take Scire up on his offer. She's glad she did.
"I didn't realize how much I missed playing, and it was just nice to get back into it," Nikolaus said. "Everyone was pretty welcoming. It was fun, too. My freshman year wasn't that fun, so it was nice to have fun again."
In her first season at Webster, Nikolaus, a sophomore center midfielder, started all 19 of the Gorloks' games and led the team to a 12-6-1 overall record and a 7-1 mark in St. Louis Intercollegiate Athletic Conference play. Nikolaus recorded seven goals, tied for the second-highest total on the team, and two assists for 16 points.
Nikolaus said the dropoff from Division I to Division III was not that significant.
"There's a lot of good players at all the divisions, because a lot of them don't want to play that high of level," Nikolaus said. "They want to do other things, socially and academically. The competition — some teams were terrible, but other teams were what I would expect."
Nikolaus was named to the SLIAC All-Conference first team as well as the SLIAC All-Tournament team. On Dec. 10, Nikolaus was named to the National Soccer Coaches Association of America All-Central Region third team.
Runner-up: Taylor Gibbs, softball
Click HERE to go to the navigation page of The Journal's 2011-2012 Athletic Awards
Share this post