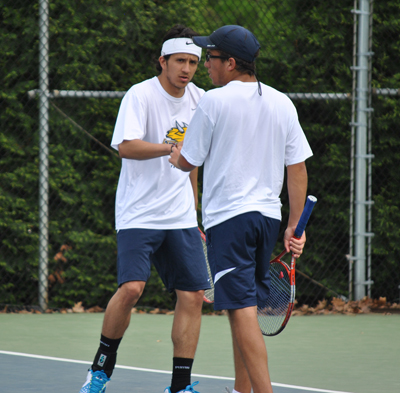 Click HERE to view The Journal's pick for 'Best Game'
On April 14, the Webster University men's tennis team faced off against Principia College at the Webster Groves Tennis Center. At the time, Principia was undefeated in the St. Louis Intercollegiate Athletic Conference.
Webster went into the match with a 3-1 record in the SLIAC. With a victory over Principia, Webster would end the season tied for first in the SLIAC.
Webster's lone SLIAC loss was against Westminster College, 6-3. Principia defeated Westminster 5-4, so Webster didn't seem to have a great chance of upsetting Principia, the eventual SLIAC tournament champion.
But Webster won five of the six singles matches, which clinched the 6-3 victory over Principia. It gave the Gorloks their first share of the SLIAC regular-season title in program history.
After the match, Webster coach Michael Siener said he knew a lot had to go right in order for his team to pull off the upset.
"I knew it would be a really difficult win for the simple fact that we would have to have everybody on our roster play really well," Siener said. "If one or two guys didn't play well, we were probably going to lose.
"A lot of times in tennis we don't get a lot of upsets, just because you have to have so many people play at their highest level that day. To beat them 6-3 and not 5-4, and winning five out of six singles matches, that has to be — since I've been here — the biggest win we've had."
Runner-up: Baseball beats Washington University
Click HERE to go to the navigation page of The Journal's 2011-2012 Athletic Awards
Share this post