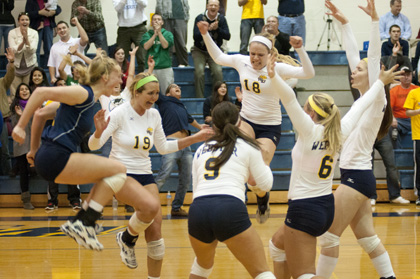 Click HERE to view The Journal's pick for 'Best Streak'
At the end of the volleyball regular season, Webster University and Greenville College were tied atop the St. Louis Intercollegiate Athletic Conference standings. A coin flip decided who would host the SLIAC tournament. Webster won.
The Gorloks defeated Westminster College 3-0 in the first round, while it took Greenville five sets to defeat Principia College 3-2. It set up a championship match that was sure to be competitive.
During the regular season, Webster and Greenville split the season series. Webster beat the Panthers at Greenville, while Greenville defeated Webster on a neutral court.
The SLIAC championship was on Webster's home court of Grant Gymnasium, and the match wasn't close. Webster defeated Greenville 3-0 and captured the SLIAC title.
"There's just nothing better than winning on your home court in front of a packed house," Webster coach Merry Graf said.
Graf has now won five SLIAC titles, but it was a first for freshman outside hitter Jenny Howard.
"Beating Greenville was amazing because we were so close to them all year," Howard said. "Both times we played them it had gone to the fifth game. We didn't even expect to sweep them at all. I just remember everyone storming the court and celebrating. It was the most amazing feeling."
Runner-up: Women's cross-country receives banner at halftime of basketball game for winning first SLIAC championship
Click HERE to go to the navigation page of The Journal's 2011-2012 Athletic Awards
Share this post