Disclaimer: I am a sappy, emotional person, and as I enter the final days of my undergraduate experience here at Webster, this has only been magnified. Cue the Vitamin C song "Graduation" — it's time for a retrospective of my four years at this wonderful institution.
I'll start with a flashback to my Saturday night. I entered the Visual Arts Studios building, wearing bright purple tights and my hair teased back.  The Webster Art Council (WAC) hosted one of my favorite annual Webster events — the art prom.
Somewhere between the strobe lights, Nicki Minaj's "Super Bass" and the trippy sci-fi costumes, I found myself having a very serious thought. Or, at least, as serious a thought one can have while dropping it like it's hot.
"This is Webster," I thought.
I was reminded of many times in my college career at Webster when I heard people say we have no school spirit. Athletes and sports enthusiasts would agree with that statement, as would many students involved in organizations on campus. But I think our definition of spirit might need some changing.
Maybe Webster students don't attend events like students at other campuses do. Maybe they don't cheer on or support other students in their endeavors the way they should. That's a choice each individual makes, and they have every right to do so.
But I felt a special kind of spirit at art prom. I felt it as students grabbed strangers, pulling them into a mad conga line. I felt it when I walked into the art building as a non-art student and was welcomed. I felt it when I saw peers joining in on silly, ridiculous dance moves instead of pointing and laughing. I felt it when 50 sweaty kids in a small room sang Backstreet Boys at the top of their lungs.
Webster isn't about showing off peppiness or uniting under school colors. It's about inclusion, acceptance and embracing the weird.
Many instances throughout my time at Webster have embodied this spirit. From the collaboration and consideration that goes into every Delegates' Agenda to the creation of a Quidditch team, from the way Webster Students for Environmental Sustainability (WSES) reach out to students from all backgrounds to interdisciplinary classes that encourage discussion and reflection, a spirit of tolerance and seeking knowledge is prevalent.
Of course, not everyone at Webster has this "spirit," but even the mission statement of the university is evidence of our inclusivity. "Creating global citizens" seems pretty inclusive. But I personally think it goes past an institutional value. It goes down to the core of the students.
Webster students value perspectives outside their own. They value opportunities and experiences that place them outside their comfort zones. They value people, from all walks of life. And they value the freedom of choice. Above all, Webster students value being able to be independent people.
So as the class of 2012 looks at what they've accomplished here, it is my hope that they recognize the Webster spirit they've picked up. It isn't a sports game or mutual hatred of another school that bonds us. It isn't a cocky belief that Webster is better than all others.
Our spirit is one of experimentation and expression. Our spirit is the mutual understanding of others. Our spirit is the feeling of joy we get from serving others and seeking to relate to other cultures. Our spirit is the best parts of ourselves as humans, of Webster as an institution and of education itself.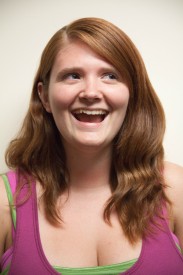 Share this post