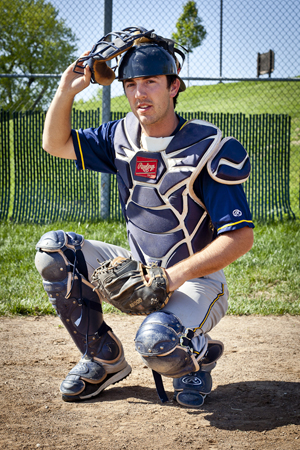 With a 3.08 cumulative ERA, a strikeout-to-walk ratio of nearly 3:1, and a batting average against of .250, the Webster University baseball team's pitching staff has been nothing short of spectacular this season.
But what the numbers don't show is the importance of the Webster pitchers' battery mate. The common denominator for the staff's success this season is a senior catcher who does the dirty work behind the dish.
"You can't have a great team unless you have great catching," Webster coach Bill Kurich said.
And for the 17-9 Gorloks, great catching is what they possess in Matt Moore.
Moore is in his second year catching for Webster after he transferred from Division-II St. Joseph's College in Indiana. He shares time with fellow senior Dustin List, but gets the majority of starts (17 to List's nine). Kurich calls all the pitches for Webster, but Moore starts most games because of his intangibles on defense.
"He's not as good a thrower as Dustin, (but) very rarely does he have a passed ball (three this season) or very rarely is there a wild pitch when he's in the game," Kurich said. "He's a leader out there. That's what allows him to catch two out of three of our games."
Moore tries to build a relationship with the pitcher he'll be working with prior to their start.
"As I'm warming them up, it's very important you talk to them and make them feel good no matter what their pitches look like," Moore said. "You've just got to instill confidence in them because if they're confident, then they're going to go out and throw well."
Senior David Mueller, who is 5-1 with a 1.34 ERA, has been throwing to Moore since last year. Moore catches all of Mueller's starts, and the relationship they've built has become evident.
"It's kind of a special relationship you have to have," Mueller said. "Me and Matt hang out a lot off the field. I think that definitely helps make me trust him back there because I know he's doing the best he can to block a ball, frame a pitch for me or steal a strike here and there. It's like I'm pitching to my friend more than just my catcher."
Moore wants his relationship with Mueller to rub off onto the Gorloks' freshman pitchers.
"It's great to have Dave, a senior leader, being our ace because guys look up to him," Moore said. "It is so important to motivate them the same way Dave gets motivated and put them kind of in the same mindset. Dave is obviously a different pitcher than the other guys, but I still try and instill the same motivation."
Moore's calming presence
Isaac Behme, who is 2-2 with a 2.67 ERA, is a freshman pitcher who has been thrown into the rotation due to injuries to sophomores Zach Schneider and Dylan Dean Smith.
"(Matt has) had a big influence," Behme said. "He's helped me out a lot. He keeps me calm on the mound."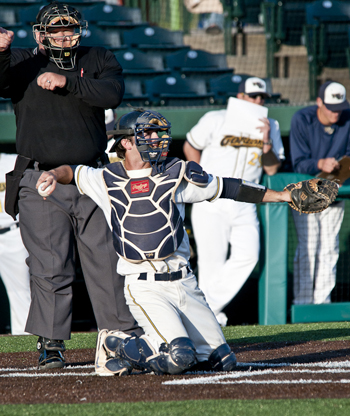 Moore likes to visit the mound after a pitcher gives up a home run or base hit. This helps the pitchers, even young pitchers like Behme, stay comfortable in a game.
"I think the first thing I always say to a pitcher is, 'A good pitcher throws the next pitch right down the middle. He throws it as hard as he can because the other guy is not expecting it,'" Moore said. "You watch pitchers in the big leagues, especially the good ones, they'll give up that occasional home run, and then they'll shut the other team down the rest of the game."
In order to settle down the pitcher and lighten the mood after a home run or big hit, Moore tries to get the pitcher to focus on the future instead of the past.
"If something happens, he's going to come out and try and tell you a joke or to look at some girl in the stands or something like that," junior pitcher Steven Dooley said. "He's very good at helping you get your mind off the bad thing that just happened."
Aside from establishing a relationship with the pitchers, Moore has to earn the pitchers' trust. If the pitchers have faith in Moore, then they know they can throw a ball in the dirt or out of the zone and Moore will keep it in front of him.
Moore can't gain pitchers' trust just by talking to them before or during a game. He does it through his play behind the plate.
"You have to be back there and you have to work hard the whole time," Moore said. "The biggest thing is if the pitcher sees the catcher is working above and beyond, and he comes in the dugout drenched in sweat, then he is going to work hard. He feels comfortable throwing to that catcher.
Moore's other responsibilities 
Webster's standout pitching and catching has helped the Gorloks achieve a 10-1 record in the St. Louis Intercollegiate Athletic Conference.
"He probably doesn't receive as much credit as he actually should," Behme said. "A lot of people don't understand how hard it actually is to be a catcher. Most of the focus is on the pitcher all the time. Without a good catcher, it's really hard for your team to be successful."
Moore plays a big role when it comes to pitching, but a catcher is relied on even more when the pitch is put in play.
"Our biggest responsibilities are just kind of seeing everything that's going on," Moore said. "If there's a ball hit into the gap, I need to tell the entire field where to line up and where to make the throws. If the other team lays down a bunt, I need to be able to tell them where to throw the ball. The responsibility is huge."
While the best area of Moore's game is on the defensive side, he's no slouch on offense either. Moore ranks sixth among starters with a .280 batting average. He batted .333 last season and has only struck out 14 times in his 178 career at-bats for Webster.
After this season, Moore and List will graduate and Webster will have to find a replacement behind the plate. Sophomore Matt Mason is the other catcher on the team. He is slated to be the starter next year, but he has appeared in only two games this season.
"We rely on those guys to kind of be the backbone of our defense," Kurich said. "That's a big piece of the puzzle, and that's a big piece of our recruiting in the next year is to find those guys who can step into those roles."
For now, Moore will continue to orchestrate the Gorloks' pitching and defense in hopes of helping Webster win its sixth consecutive SLIAC regular-season title and third consecutive SLIAC tournament.
Share this post