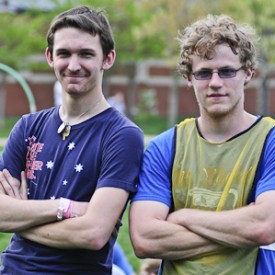 Caleb Wolz was a senior in high school when he discovered Quidditch. From that moment on, not even an hour-long commute could keep him away.
Wolz, a freshman audio major at Greenville College, drives 120 miles round trip every Monday and Thursday to practice Quidditch with Webster University's team.
"Going into it, it was more about Harry Potter," Wolz said. "After playing it, it really has become something I really enjoy."
Growing up, Wolz's parents didn't allow him to read the Harry Potter books or see the movies. His final year of high school, he read all seven books and watched the eight movies.
Then, Wolz said he discovered that Muggles (non-wizarding people) could play Quidditch, too.
"One of the major attractions (of Quidditch) when reading the book is you get to fly," Wolz said. "You don't get to fly in real life, obviously, but for me it's just kind of being a part of something from the books."
Wolz had been playing soccer since second grade, and played as  goalie since fourth grade. His skills as a goalie made him feel most comfortable as a Keeper on the Quidditch pitch. The Keeper protects their team's three goal hoops from the opposing teams' Quaffles (volleyballs).
He said Quidditch appealed to him as a college student because it doesn't have to be taken as seriously as other sports.
"Being at school and playing for school is so competitive. There's so much work behind it," Wolz said. "I just like to play for fun. We do take it seriously, but it's more for fun. We're all a bunch of nerds out there running around with broomsticks."
Wolz found his place on the team through an old school friend, sophomore English and French major at Webster Lindsay Ohlemeier. Wolz had been trying to start a Quidditch team at Greenville when he saw a post from Ohlemeier on Facebook looking for another member to play at Webster. Wolz jumped at the opportunity.
He said it has been nice to be able to play Quidditch without having to be in charge of the team. Next year, though, Wolz wants to start his own team at Greenville. He said he wants to continue playing Quidditch all four years of his undergraduate education. Since he started playing at Webster, more people at Greenville became interested, he said.
"It was pretty great coming back from my first practice," Wolz said. "I got a lot of positive feedback and it's helping to get people interested in a team up here."
He said he doesn't mind driving to practices at Webster because he's not yet involved in many activities at Greenville.
"The drive definitely does take a toll on gas, but I'm doing what I can," Wolz said. "It's definitely interesting driving all that way for a sport like Quidditch, but I'm having fun with it."
Ohlemeier said Wolz adds another outgoing personality to the team, in addition to being a great Keeper.
"He fit in really well because he's really good," Ohlemeier said. "Webster Quidditch is really accepting anyway, but it helps if you're talented."
Though some may not view Quidditch as an actual sport, Wolz said it does take athletic ability and he uses it not only as fun, but as exercise.
"People think it's just something where we just run around, but it has rules and it's actually quite a workout," Wolz said.
After waiting until high school to delve into the world of Harry Potter, Wolz is dedicated to continue participating however he can — especially through Quidditch.
"I'm kind of a nerd and I just love Harry Potter," he said. "My favorite part is just the fact that I'm able to play Quidditch and to say that I play Quidditch."
Share this post