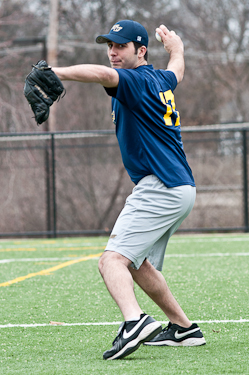 It's 6 p.m. on April 8, 2009, and Shaheen Shabrou is back where he belongs — on the pitching mound. It doesn't matter that only a day and a half earlier, Shabrou was completely immobile.
On April 7, 2009, Shabrou was paralyzed as a result of a 290-over-160 spike in his blood pressure. An adult's average blood pressure is 110 over 60.
But the very next day, Shabrou, a then-freshman at Quincy University, dominates each batter he faces and throws three shutout innings during a JV game.
"When Shaheen is on the mound, that's where he feels more comfortable and he actually feels he's in power,"  said Ryan Tabeling, Shabrou's coach at Tuscola Community High School in eastern Illinois. "He's got control of the game. He's in control of his life when he's on the mound. That's why he loves the game of baseball so much — it gives back to him a chance to feel good, to feel powerful."
When Shabrou returns to the dugout after his third inning of work, he loses control of his legs. The paralysis he had experienced the night before is back.
Shabrou is taken to the hospital. After an hour, Shabrou regains control of his legs. Everything is normal once again.
But during the fall of 2010, Shabrou's high blood pressure — coupled with his social anxiety, sleeping disorders and panic attacks — causes Shabrou's doctor to tell him that he will never play baseball again.
"After (the doctor) told me everything, he goes, 'Now, I'm going to give you a couple minutes to adjust to this, but I think you should stop playing baseball and focus on your health,'" Shabrou said. "As an 18-year-old freshman in college, that was exactly what I didn't want."
But now, a junior pitcher at Webster University, Shabrou is proving all the doubters wrong. Though he's appeared in only one game during his first year of baseball at Webster, Shabrou knows stepping foot on the mound again is an accomplishment in itself.
"I know so many people that can't play baseball anymore and they miss it terribly," said Shabrou, a business administration major. "I've been in those same shoes. I wasn't able to play a children's game anymore. Now, I'm getting another chance to play. It really feels like I was reborn and can play again."
A warrior on and off the field
Shabrou began playing his favorite sport at the age of 10. He was attracted to baseball because hardly anyone else played in Tuscola, a football town with a population less than 5,000. Baseball set Shabrou apart. Baseball made Shabrou different.
During his senior year of high school, the Tuscola Warriors made it to the state tournament behind Shabrou's right arm. Shabrou decided to walk on at Division-II Quincy.
During the fall of 2008, Shabrou began to have serious breathing troubles. He thought the issue was simply sports asthma, a problem he's had his whole life. Shabrou has undersized lungs and bronchial tubes as a result of being born premature, which leads to his breathing problems. Despite this, he made it through the fall baseball season.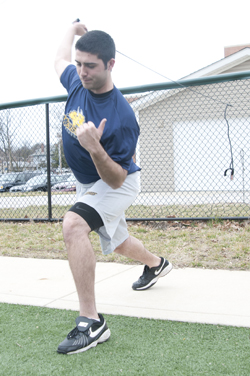 But during a routine check-up over winter break to get his inhaler refilled, doctors discovered Shabrou had hypertension — abnormally high blood pressure — and a hole in his chest, another result of his premature birth.
"My doctor said if I got hit with a golf ball at the right angle and the right speed, it would just stick (in the chest hole)," Shabrou said.
Doctors informed Shabrou of more bad news — he was diagnosed with insomnia, delayed sleeping phase, sleep apnea and social anxiety disorder. As a result, Shabrou didn't play baseball for much of the spring season.
"I was really naive, probably a little stupid to keep trying to play, especially with how many times I've wound up in the ER," Shabrou said. "Four different times I've had a doctor look me straight in the face and go, 'We can't explain how you're still alive.'"
One of those times was April 7, 2009, when Shabrou had the paralysis incident. Shabrou's sleeping pills weren't working and he hadn't slept for nearly two weeks because he was stressed about midterms. He was having daily panic attacks. Shabrou's body shut down that night in April, rendering him immobile.
In July 2009, Shabrou had a panic attack that mimicked a heart attack.
"I was driving home on the interstate and just completely lost control of my left side," Shabrou said. "I had severe chest pains and almost wrecked my car going 65 miles an hour. I just lost control of the car and went right off the interstate."
In March 2011, Shabrou fell asleep in his apartment and his breathing became shallow and weak. Shabrou said his German Shepherd, Dakota, went "berserk." The landlord heard Dakota's barking, found Shabrou asleep and took him to the emergency room.
On Aug. 6, 2011, the morning after Shabrou's 21st birthday, Shabrou fell asleep and stopped breathing. His friends took him to the hospital when they couldn't wake him up. Despite these near-death experiences, Shabrou still tries to live as normal a life as possible.
"One thing I think is important is I haven't changed the core of my lifestyle," Shabrou said. "I can't change what I can't control. I still do all the things I love. I just don't take life for granted and (I) find joy in some stuff that seems trivial."
Dakota, the lifesaver
During the summer following his freshman year at Quincy, Shabrou fell in and out of depression. On June 1, 2009, Shabrou walked into an animal shelter and found a skinny, white dog. If the dog wasn't adopted soon, he was going to be put down.
Shabrou did something he had wanted to do his entire life — he adopted the dog and named him Dakota.
"I was at an extreme low in my life," Shabrou said. "I adopted him because I felt like I could relate to him. He had all these issues, and I had all these issues. It ended up being the best thing I did in my life."
Dakota's presence helps keep Shabrou's blood pressure down and lessens the number of anxiety attacks Shabrou has.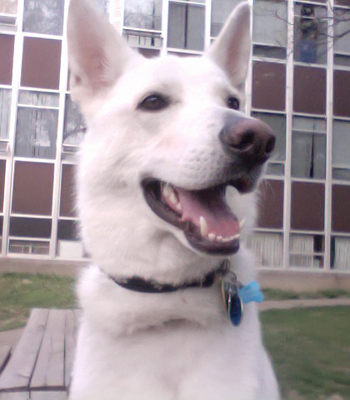 When Dakota, who is now three and a half years old, was still a puppy, he would help awaken Shabrou when his sleep apnea caused him to snore and then stop breathing. Dakota would jump onto Shabrou's chest when he began to snore because the dog noticed the change in noise.
This got Shabrou into a pattern of waking up when he snores. The sleep apnea still affects Shabrou every night in 30-minute intervals, but he's able to wake up without the assistance of Dakota or a CPAP machine.
Despite Dakota's presence, Shabrou's blood pressure was still too high, so his doctor had him sit out his sophomore year of baseball at Quincy. The following summer, with his health problems still persisting, Shabrou, who started out as a history major at Quincy, decided his education was more important than his favorite sport.
He transferred from Quincy to St. Louis Community College-Forest Park for the spring 2011 semester with the hope of being accepted into Saint Louis University the following semester. But two weeks after he moved to St. Louis, Shabrou's doctor cleared him to play baseball once again.
Shabrou chose to transfer from Forest Park to Webster for his business administration degree at half the cost of SLU. As a result, for the first time in three years, Shabrou would be able to play collegiate baseball.
Webster coach Bill Kurich extended Shabrou an invitation to join the Gorloks this season based on the recommendation of Quincy coach Josh Rabe. Kurich said he will primarily use Shabrou out of the bullpen. He added it hasn't been too difficult for the coaching staff to manage Shabrou's conditions. During preseason workouts, Shabrou did not participate in the more strenuous activities.
"First and foremost, we make sure he's cleared medically by the doctors and by our training staff, and everything has been good," Kurich said. "He is a young man that is very well aware of some physical limitations he might have.
"Being able to run a marathon doesn't necessarily make you a great pitcher. The most important thing is he's in condition to not get tired in games and keep his arm healthy. We're just in contact with him; we obviously have to keep an eye on him."
Senior pitcher David Mueller said although Shabrou isn't a pitcher who overpowers batters, he does a great job hitting spots and mixing pitches. Shabrou throws four pitches: a fastball, a sinking split-finger fastball, a curveball and a changeup.
"It's amazing he pushed through three years of not even playing just to get one year with us here at a new school, where he didn't really even know anybody," Mueller said. "It just shows how much he loves the game, and all the hard work he put in really paid off. He's going to be good for us this year — he's going to see a lot of innings and he's going to be a key part of our success."
Mixing business and baseball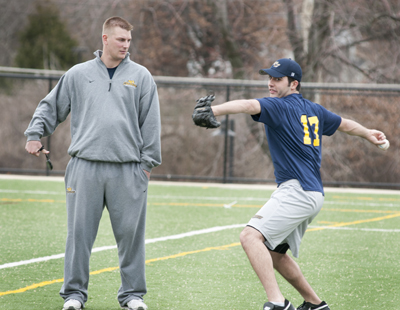 Because of Shabrou's hospital and college bills, his credit has been affected and he is nearly $39,000 in debt. A few foundations and charities have helped Shabrou out. But mostly, the money has come out of Shabrou's own pocket. He works in sales at a furniture store to pay off some of his debt. Shabrou's family does not help him out financially.
"As I've heard many times from people who have helped me get where I am, 'It may be tough now, but 10 years from now, you'll be further ahead than anyone else because you've already been through it,'" Shabrou said.
Shabrou said one positive is his medical issues haven't bothered him much while he's been at Webster. He still has to deal with his high blood pressure, sleeping disorders and social anxiety disorder, but for the most part, he's been able to keep them in check.
He stays away from caffeinated soda and canned soup, along with other high-sugar and high-sodium foods and drinks.
"I know I have to deal with it, even once I stop playing baseball," Shabrou said. "I try to do everything I can with the rest of the team. Whenever I start to feel that pain, and it's beyond a level where I'm comfortable with it, I pull myself out. It's basically a day-to-day, constant monitor of how I feel."
Tabeling said Shabrou had to mature at an early age, which has enabled him to overcome any obstacles that come his way.
"It could be another story of just another kid that went to college, had to deal with all this stuff, dropped out and you never heard of him again," Tabeling said. "I'm talking fighting to know if he's even got enough gas money to get around, fighting to know what he's going to eat, if it's enough that he's going to make it by before he has to pay his loan or a bill.
"It's very impressive, as a kid. Not many adults could even go through what he did — a lot of people could give up pretty easily. Baseball is his first love, and baseball is where he feels he's got an opportunity to do something."
Shabrou has one year of athletic eligibility left, which he will use next season. Once he graduates from Webster next May, Shabrou wants to start an academy that will place high school baseball players at colleges that fit their academic and athletic abilities.
Shabrou will call his company the Dakota Baseball Instruction and Development Academy. Until then, Shabrou is going to enjoy playing baseball.
"I know there's always going to be the visible glass ceiling above me because of my health conditions," he said. "But until I hit my head on it, I guess I'll just keep trying."
Share this post