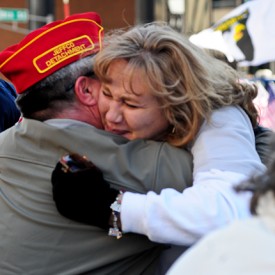 Julie Vinnedge sobbed as she held a photo of her 19-year-old son who died in Afghanistan. She walked past the crowd of thousands on Market Street in downtown St. Louis at the Iraq War veterans parade on Jan. 28. The crowd yelled "Thank you" to her and the other Gold Star families, who walked in remembrance of the loved ones they lost during the war.
Julie Vinnedge's son, Phillip Vinnedge, decided to join the military at age 10, after Sept. 11, 2001.
"He said he would do anything to prevent some who would try to take his family's freedom from them," Julie Vinnedge, 51, of St. Charles, said. "We have neighbors who have children between the ages of 10 and 11. I'll see them playing football or four-square, and I'll look at them and I'll say, 'There's no way Phillip knew what he wanted when he was 10 years old.' But he was adamant."
Phillip Vinnedge held onto this dream his entire life. In his junior year of high school, with the support of his parents, he enlisted early in the Marines. After training in boot camp, he was deployed to Afghanistan. Only 16 days into his tour, an improvised explosive device bombed his vehicle. He and three of his fellow Marines died instantly.
"Nothing devastated our family more than the day that we were told Phillip was killed," Julie Vinnedge said. "But everybody that comes home, that is just one more person to honor Phillip."
SLIDESHOW BY BRITTANY RUESS
Julie Vinnedge's friend, Kerri Garrison, 47, of Illinois, walked with her in the parade. When Ron Bartholome, who served in the Marine Corps from 1979-1985, yelled out "Thank you," Garrison marched over to hug him. She cried on his shoulder for a brief moment.
"I would hug every single one of them," Batholome said. "I feel what they did was the greatest sacrifice an American can possibly give to their country."
Donald Walton's eyes also welled up as the Gold Star families passed him. Walton, a Louisiana native, felt heartache.
"It tore me up," Walton, 46, said. "Knowing what they're feeling, knowing what they're going through. It just brought back a lot of memories."
Walton is an Iraq War veteran. During his one-year tour with the Army's 61st infantry, Walton witnessed his friends get killed in the line of duty. These comrades were on his mind during the parade.
"I'll never forget them," Walton said. "It was an honor to serve with them."
Tom Appelbaum, a lawyer from Creve Coeur, and Ed Schneider, a St. Charles School District technology coordinator, thought of having a parade. Using Facebook and social networking, they were able to gain support for their idea. The parade was the first homecoming parade for Iraq War veterans in the nation.
Appelbaum and Schneider's Welcome Home Foundation organized the parade. The Mission Continues, a non-profit organization which aids post-9/11 veterans to continue serving their country through community work, helped fund the parade.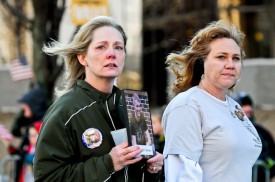 David Rogers, a Webster MBA graduate student and fellowship program manager for The Mission Continues, said he read about the homecoming on Facebook about two weeks ago. Rogers said the Facebook group had about 300 members at the time.
"It was a wild and crazy idea that seemed to still be on the drawing board at that point," Rogers said.
Before the parade, Rogers felt unsure about how many people would turn out for the event.
"I'll definitely be honest and say that a lot of Americans are not touched by the service members of our nation," Rogers said. "Certainly, we have our yellow bumper stickers, or we have a cousin or brother or uncle or neighbor who might've been to Iraq or might be in the service, but for most of America it's not touching.
"So, to see a large portion of the St. Louis area to come out and to see first hand our service members eye to eye, to see the service members walking down the streets of St. Louis at the welcome home parade, that's completely unheard of."
Laurie Schneider of St. Louis, 48, stood with her mother Norma Garrison, 72, and her daughter Julia Schneider, 7, on the cold, yet sunny day.
"It's like I told my mom, it's cold out today but what have they been through for us? This is the least we can do for them," Laurie Schneider said.
They held a poster with photos of Schneider's cousin, Sergeant Israel O'Bryan, who died on June 11, 2010 after insurgents attacked his unit in Iraq.
"It's a very bittersweet memory because Israel isn't here to celebrate with us," Laurie Schneider said.
Sounds to "Welcome Home the Heroes" by wujournal
RECORDED BY BRIANA BAKER FOR THE JOURNAL
Share this post