This holiday season, give the gift of delicious food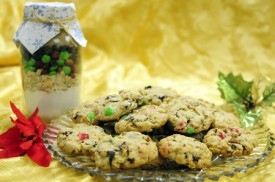 As hard as it is to believe, it's already December and Christmas is right around the corner. The holiday brings about a time of giving and, unfortunately, over-the-top spending and an unpredictable shopping rush.
For anyone who would rather save money and skip the mad shopping rush this time of year is famous for, try adding some more meaning to your holiday gifts by making them yourself. The following edible holiday gifts are cheap to make and require minimal to no cooking. Some of these gifts would also be great served at an upcoming holiday party, in the dorms or elsewhere.
Fudge
This microwavable fudge is simple and pretty foolproof. Line an eight or nine inch square pan with aluminum foil. In a microwave-safe bowl, combine three cups of chocolate chips, a 14-ounce can of sweetened condensed milk and a dash of salt. Microwave on high for three minutes until the chocolate is melted, stirring the mixture about halfway through. Stir in a teaspoon of vanilla extract then spread the mixture into the prepared pan. Chill for about two hours then cut into squares.
White Chocolate Bark with Pistachios and Dried Cranberries
Chocolate barks are widely available during this time of year, and this variation is a different take on the typical peppermint flavored variety. Not only is this version delicious, but the red cranberries and green pistachios make it extra festive. Start by lining a baking sheet or a small cake pan with wax paper — if you're using a mini-fridge to make your bark, use a smaller pan so it will fit in your fridge. Melt one pound of white chocolate chips in a microwave-safe bowl in 30-second intervals until melted. Let the chocolate cool slightly, then stir in a half-cup each of dried cranberries and shelled pistachios. Spread the mixture into the prepared pan and refrigerate until set, then break into pieces.
White Chocolate Covered Oreos with Crushed Candy Canes
This is another holiday treat that tastes as festive as it looks. Throw some candy canes into a zip-top plastic bag and crush them into smaller pieces. Then, line a plate or baking sheet with wax paper. Melt white almond bark or white chocolate chips in a microwave-safe bowl for 30-second intervals until melted. Submerge the Oreos in the melted chocolate and place them on the tray or plate after dipping. While the chocolate is still wet, sprinkle the tops of the Oreos with the crushed candy canes then refrigerate the Oreos until the chocolate is set.
S'Mores Kits
Everyone loves s'mores and these kits are a perfect way to share the campfire favorite. Place four graham cracker halves in the bottom of a cellophane bag, which are easily found at craft stores like Michael's. Break a chocolate bar in half and place the pieces on top of the graham crackers. Lastly, place two jumbo marshmallows on top of the chocolate. Complete the package by tying the bag closed with a festive ribbon.
Chocolate Covered Pretzels with Sprinkles
These pretzels are incredibly easy to make, look festive and require only three ingredients. To start, line a baking sheet or a plate with wax paper. In a microwave safe bowl, heat almond bark or chocolate chips in 30-second intervals until melted. When the candy or chocolate is melted, dip your pretzels — pretzel twists or pretzel sticks — into the chocolate. Shake off any excess chocolate and place onto the wax paper lined sheet or plate. While the candy is still wet, decorate the pretzels with Christmas sprinkles then place in the fridge until the chocolate has set.
Share this post