Sierra Hancock and her team members with KMOV's "Surprise Squad" won the Mid-America Emmy for best human interest program or features for their story on Coach Todd Shelton.
Webster alum Sierra Hancock crouched under the bleachers in the fall of 2019, waiting for her cue to start filming. She didn't know that day would cause her to have an Emmy award in her hands a year later.
Hancock and members of KMOV's "Surprise Squad" were at McCluer South Berkeley High School to surprise coach Todd Shelton. Shelton had been struck by a stray bullet earlier in the year while driving, leaving him paralyzed from the neck down.
At halftime, the squad would pop out and surprise Shelton with a new ramp for his home, jerseys signed by his favorite football player and a handicap-accessible van. The experience left Shelton in tears.
"When you're in a position like that, survival is top of mind. We also wanted to make sure that we were doing stuff that was beyond that, that was bringing happiness to them too," Spencer said. "It wasn't just about survival."
The story won the Mid-America Emmy for best human interest program or features segment and was the biggest surprise the squad had done yet. They worked for months on the surprise, planning out the details to make sure nothing was overlooked. Hancock credited Brian Spencer, a producer on the Surprise Squad, as the "brain of the operation."
"It was just a really beautiful day, for a family really needed it," Hancock said. "And that's what Surprise Squad is, just finding those people in the community who makes such an impact on others. And then now we can impact them. And so that's what we did with that coach."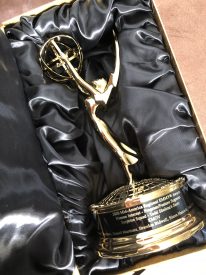 Hancock, one of two women in her Emmys category, said she hopes her winning the award will also serve as a positive example to others. Being a woman of color, Hancock wants to show other women and women of color that being in the industry is possible.
"On my team, it came over me like I was the only woman, I was the only person of color," Hancock said. "I came into a completely white male team from my boss down to every producer. So it was just huge for me to be able to show that  women can carry the heavy gear, women can be on the stories and do the hard work and do whatever that you set your mind to."
Spencer said Hancock's presence on the team was essential. Not only were her skills as a videographer key, her young age helped bring a certain factor to their segment.
"I'm not aging, I'm just not hip. So to see what she's into and where her knowledge is and her cultural knowledge, it was wonderful to have because when you're out of it, you just don't know what you're missing and it's wonderful to have," Spencer said. "Because then you start seeing ways to tell stories differently, to present them differently. You see her style, and all of that bleeds together with everybody else in the team. And it's great to have."
As far as the future beyond her new golden statue, Hancock now works in Nashville as a video producer for Meredith. This comes after she lost her job during the station's COVID-19 mass layoffs, then was rehired by the same corporation. Hancock credits her friends, family, God and Webster for her path. Next up for Hancock is acquiring more of the tiny globe statues.
"I definitely would like to win an Emmy for producing," Hancock said. "That was great to have a team where I was the videographer, but it'd be nice to be like the Brian Spencer where I'm the producer, I'm the brain behind the project. So that would be really cool to aspire for that next. And I think in my current role, I'll have more of an opportunity to do that."
Share this post