Even as the Webster University men's basketball team (13-12) saw its postseason hopes end in disappointment, the team added to the history books this week. Gorloks senior forward Davian Joseph was officially recognized as the SLIAC Men's Player of the Week, the first such honor for a Gorlok men's basketball player in over two years.
Given the standings, any loss would have proved to be detrimental to the Gorloks postseason aspirations. Joseph averaged a double-double, 11.5 points per game, 10.5 rebounds per game, 3.5 assists per game, and 4.0 blocks per game, and an efficient 61.5 percent shooting. As the box scores represent, Joseph displayed the ability to contribute for the team in every aspect of the game. Due to such performances, Joseph became the first player to receive the weekly award since Hunter Ward on December 5.
For the season, Joseph averaged 8.8 points per game, 7.7 rebounds per game, 1.9 assists per game, 1.9 steals per game, and 1.6 blocks per game. Joseph stated that he enjoyed what his performance meant for his team.
"My reaction was shock, surprise, excitement," Joseph said. "Just a bunch of emotion just running through my body. That feeling of knowing how much of a big factor you are to the team means a lot to anyone playing a sport."
The groundwork for the senior forward's Player of the Week bid was most likely laid during the game against McMurray on February 10. With the Gorloks trailing 84-83, Joseph drained a pair of game-winning free throws that not only saved the game, but also the Gorloks season. During that same game, he contributed six blocks to assist the team on the defensive end.
When asked about his reaction to Joseph's accomplishment, Gorloks men's basketball head coach Chris Bunch spoke positively on Joseph's attributes and how they have helped the team to prosper.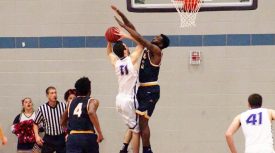 "Davian is very coachable, and he's got a good attitude," Bunch said. "Very unselfish. All the guys really like him. He's as hard a working player as anybody I've got. I was very happy for him because I feel he's worked very hard to get back into play this last semester. It's good to see good things happen for someone who's worked that hard to do things the right way."
Bunch also talked about Joseph's return to basketball after difficulty with grades and ineligibility in previous years. Joseph was able to redeem himself during his senior season and propel his performances into a rare honor for the team.
"I was happy for him. He's worked very hard. You know, he's played here for the first semester two years ago, and then had some difficulties for the second half of that year," Bunch said. 'But he got his grades up, got back into school this semester, and he's done very well."
Even as the final month of his basketball career as a Gorlok finishes with a Player of the Week distinction, the likelihood of playing basketball was not always a fixture for Joseph. The senior forward's affinity for the game of basketball did not begin until the age of 11, and he was not playing organized basketball until the ninth grade.
Joseph's first passion was soccer, perhaps the reason for what Bunch calls a "rare blend of size and speed." Joseph talked about how growing up, it was the game of soccer that compelled his thoughts.
"Before basketball, I played soccer at a young age," Joseph said. "I was short, of course. My soccer coach left, and I had nothing to do. One day, I was watching TV, and out of everything that's happening, I keep hearing of this guy named Michael Jordan, number 23. So I'm downstairs shouting Davian Joseph, number 23! I was 11 and just amazed at how he stood out."
Over a decade later, Joseph has found himself accumulating his own records on the hardwood. The Gorloks ended their season on the wrong end of a tiebreaker against Blackburn University, but Joseph insists that he plans to continue playing basketball in the near future. Joseph's ability to connect with the team and provide leadership was also recognized by his teammates. Freshman teammate Justin Tarplin talked about some of the things he had appreciated from observing Joseph over the course of the season.
"He always worked hard," Tarplin said. "He came into each game, and was ready to give his all."
Coaches such as Bunch have praised Joseph for both on-court attributes, such as versatility, and off-court characteristics, such as his his unselfishness. When asked about his the standout, or favorite moment of his career as a Gorlok, such possibilities could have been the game-winning free throws, the individual accolades, or even the near triple-doubles. Instead, Joseph had a different mindset.
"Bonding with the boys and showing them the knowledge you have," Joseph said. "That way, they can show other people."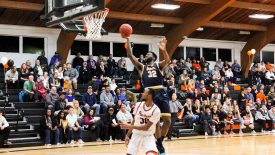 Share this post