Webster student Megan Price had her "political career" started rather early. She went on a trip to Washington D.C. with a school group for Obama's inaugural ceremony when she was only in the seventh grade. This was her very first political action. Price funded the trip herself.
"I had to mow a lot of lawns and do extra babysitting and do a lot of fundraising in order to go," Price said.
Growing up in Joplin, Missouri, Price found it hard to express her opinions to people there without being condemned.
"Going to D.C. and seeing the magnitude of hope and spirit with two million people was definitely a moment that shaped my future, knowing that it's okay to be a Democrat," Price said.
Price is a Management Marketing major and College Democrat leader at Wesbter. She spoke at a Jason Kander rally on Oct. 28 alongside Vice President Joe Biden, sharing her ideas on millennials' contributions.
In high school, Price attended Missouri Girls State, a leadership conference where students were selected due to academic excellence and civic responsibility. Participants are divided into subgroups referred to as cities. Citizens of each city elect mock municipal officials and representatives to the mock state legislature.
Price was on the media team in the Girls State and the idea to run for something did not even cross her mind.
She took on the leadership in College Democrats at Wesbter in the summer. She reinstated the club and built the foundation back from an inactive phase.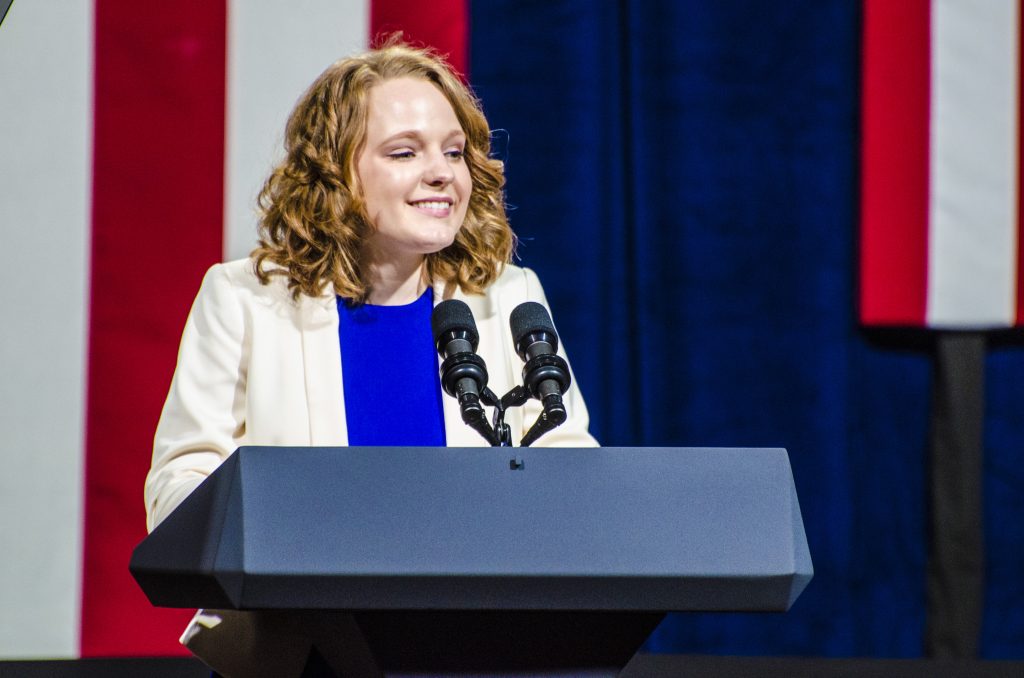 College Democrats registered 4% of students at Webster, which is a good result in comparison to other universities in the St. Louis region. They were also canvasing to raise money for the Democrat party throughout. They are still doing the last minute effort to encourage people, especially millennials, to get out and vote.
Price volunteered at the second Presidential Debate at Washington University and helped with the set up. She also helped with the spin alley afterwards where she helped navigate the room and get reporters organized for interviews.
"It was exhilarating," Price said. "I loved the every second of it."
Price helped organized for Jason Kander's visit to Webster this past October. She got to talk to some field organizers and political directors when preparing for the event, and through that, was invited to speak at the Biden-Kander rally.
Even though she never asked why she was selected, Price has her own theory.
"I don't have that wealthy of a family or grew up in a political family," Price said. "If you are always kind to people and eager to work and support, opportunities come your way. That's the philosophy I lived by for quite sometime." Price said.
Webster student Jared Campbell, a good friend of Price, participated in the rally.
"It just goes to show that with hard work and putting in a lot of time and effort, which Megan has, comes rewards," Campbell said. "She earns it and deserves it."
Price said she devoted her heart and soul into the speech, and practiced as much as possible.
"I didn't expect to deliver it the way I did and to have as much as good reaction afterwards," Price said.
Price said the clapping and cheering at the rally was encouraging. Price spoke to higher-ups in the campaign team after the rally. Senator Claire McCaskill's team reached out for contact, implying possible internship opportunities which Price said she will be "more than honored and happy to do".
Yvonne Meyer, Price's mother showed up at the rally to support her and was thrilled.
"We are very proud of our Megan and her accomplishments in 21 short years," Meyer said. "We were amazed at the professionalism Megan carried at the rally and her knowledge of politics."
She discouraged Price to get much into politics due to its questionable nature at the beginning and said this speech shall be her "first and last". Price thought her mom is changing her mind a little bit after the rally.
"Now she might understand the passion that I can not ignore." Price said.
Price is going to see where things take her within the next year before deciding on a career in politics.
"Right now, for the time being, I see myself more so on strategizing and managing campaigns rather than being a candidate, but I am not completely canceling that out, the chance of being a candidate," Price said.
Price said the first half of the semester was so busy, she would write speeches in class.
"I have definitely not been able to give my school work the full attention it deserves this year, and what you can consider is an unsustainable lifestyle," Price said. "I don't think I have cooked a meal in weeks. I haven't been able to watch Netflix for I don't know how long."
Price said her support system helps her to balance it all out.
"Being able to go home where I can decompress and debrief about the day with my roommates, and talking to my mom multiple times a day, they keep me grounded," Price said.
Price is a programs and recruiting assistant in the business school. They encouraged her to take the opportunities and supported her along the way.
"Sometimes when I get so overwhelmed, I think of people like Hillary Clinton," Price said. "My life is nothing, no fraction of as busy and stressful as hers is. If someone can handle something like that, so can I."
Price believed she has not changed who she is after taking on these responsibilities and opportunities.
"I am just the same Megan as I was before I was involved in politics," Price said.
Share this post