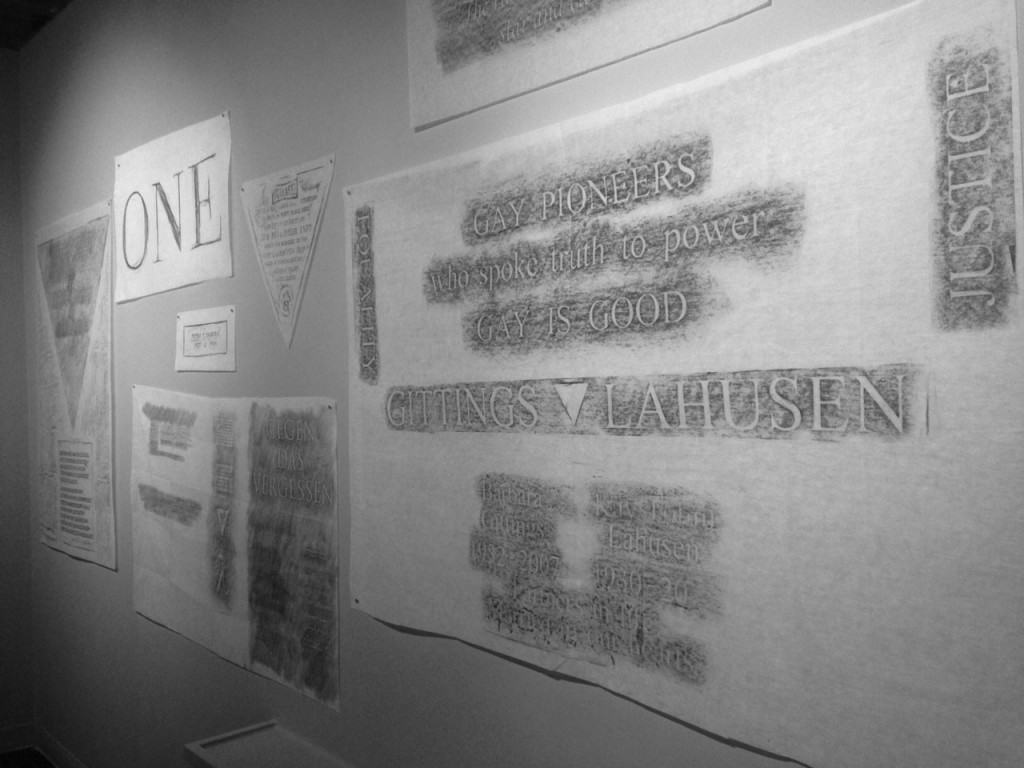 Artist Steven Reigns recalls his first experience with rubbings when he was in kindergarten – as a student, he would place a piece of paper over a maple leaf and rub it with a crayon. Now, he sees his rubbings displayed in the Cecille R. Hunt Gallery at Webster University.
Reigns' project, The Gay Rub, is an exhibition of rubbings from LGBTQ (Lesbian, Gay, Bisexual, Transgender, and Questioning) historical markers, signs, tombstones, plaques and monuments. Reigns, who grew up in St. Louis, now lives in West Hollywood, where he first got the idea for The Gay Rub when he noticed a plaque honoring transgender victims of hate crimes. He wondered what other markers there were like this in the world.
The project started in January of 2010. So far, Reigns, along with many helpers, has discovered and rubbed more than 150 historical markers over the course of five years to create The Gay Rub's collection.
The rubbings, created with white fabric and black crayon, come from all over the country and the world. They include historical LGBTQ names like Eleanor Roosevelt, Alan Turing, Andy Warhol, Harvey Milk and many more.
Reigns said he could never pick a favorite rubbing. He said the power of the exhibit is in the collectiveness of all the rubbings, and that no one rubbing is more important than another.
"I feel like with every rubbing there is a story; it really is an adventure," Reigns said. "I do have an appreciation for the rubbings of lesser-known people and places, though, just to show that they are still recognized and important."
The list Reigns has compiled of these historical markers is the first of its kind. The exhibit has been on display at six different locations around the country, but this is the first time it has traveled to the Midwest.
"Webster University is the first to bring The Gay Rub to the Midwest, and I think that says something about the forward thinking of the university," Reigns said.
Webster University alumna Molly Brennan said she is excited about  The Gay Rub because it's unlike anything she has seen before.
"Some of these rubbings you look at and you didn't even know they were LGBT people," Brennan said. "It's definitely an intense show as far as the content. I'm in awe and respect at the memorial of these people and some of the great things that they did."
Rubbing causes no damage to the historical markers. In fact, it helps preserve them because before a rubbing can begin, the marker must be cleaned and free of dust, dirt, or any other kind of debris.
Reigns could have chosen to compile the historical markers through photographs instead of rubbings, but that wasn't what he envisioned.
"To only gather photographs robs the tactile nature of a marker," Reigns said. "I wanted the exhibition to have a uniform palette: white background with black rubbings."
At first, the title of the exhibit might sound odd. And although "rub" is the shorthand for the word "rubbing," it has additional meanings. As a verb, rub can mean to upset someone: "Rub someone the wrong way." It can also mean truth: "That's the rub," or even social friction: "He got a lot of rub for that." It also means to erase: "rubbed out." Reigns said that all meanings apply to The Gay Rub.
Jeffrey Hughes, Professor of Art History and Criticism and Director of Graduate Studies in Art, said The Gay Rub is remarkable in a number of ways, but one stands out to him most.
"It reminds us of all of those people who came before us who had to deal with oppression," Hughes said.
Reigns thinks this is an important exhibition for anyone to see, and that there are landmarks that will spark an interest in people to investigate more about.
"There's a direct educational component because it shows who in history had same-sex relations," Reigns said. "The rubbings themselves act as an archive of historical markers. And for gay people, I think it's important to see who has helped pave the way for us to live as openly as we do today."
Webster University junior Vaughn Davis said he immediately thinks of history when he sees the exhibit.
"I think about what these people went through in their lifetimes," Davis said. "The artist has given us information about them, but not a lot, and it drives you to research about the person and find out about who they are. I hope this prompts students to research more about these people when they leave the exhibit."
Reigns said he wants to keep expanding the collection until there is no longer seems a need to.
"I am hopeful of the possibility that LGBTQ people will one day have an equal representation," Reigns said.
In addition to the creation of The Gay Rub, Reigns was named in Advocate Magazine's People to Watch in 2015 and is the first Poet Laureate of West Hollywood. The Gay Rub exhibition will be open in the Cecille R. Hunt Gallery at Webster University Aug. 28 to Sept. 18. The event is free and open to the public Tuesdays through Saturdays from 10 a.m. to 5 p.m. For more information, visit thegayrub.com.
The Gay Rub collection will not end with this exhibition. If you have a suggested landmark or would like to rub one, please contact Steven Reigns at stevenreigns.com/contact.
Share this post