By Alex Wilking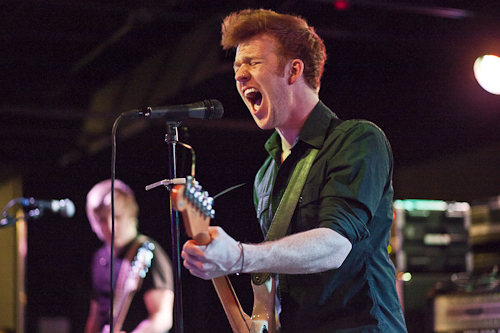 As the lights slowly dimmed, Michael Bay tuned his guitar, sound-checked his mic and chewed his lucky gum.
"I always chew a piece of watermelon Bubblicious during every set," Bay said. "I feel like it's a weird superstitious thing. If I don't do it, we're going to have a bad show."
Bay, a recent graduate of Webster University, is the guitarist and vocalist for the rock band Highway Headline. The band is partly comprised of Bay and two current Webster students. Highway Headline opened for national act The Almost on Friday, Jan. 25 at The Firebird in St. Louis City. It was the last show on The Almost's nationwide tour.
"They've been a huge influence for me," Bay said. "When I bought 'Monster Monster,' (The Almost's) last record, that was one of the points for me where I was like, 'Yeah, I want to start a band.' Listening to that sound was pivotal for me as a musician."
Highway Headline formed in March 2012 and found its start through Webster. Bassist Scott Neff and guitarist Aaron Chafin are current Webster students. The band has worked with Adjunct Professor Dan Ruder's audio classes to produce its music.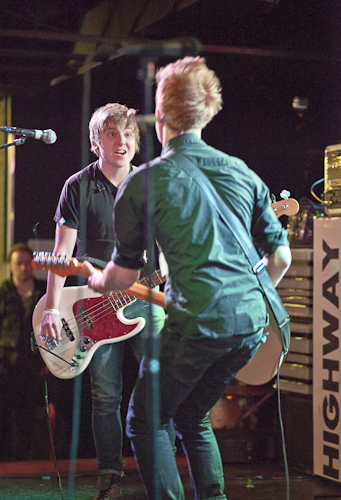 "We were audio guys, so any chance we get to be in the studio, we're there working on our stuff," Bay said. "You get to record, the whole class of audio majors works with you and then each one of them does a different mix. A class like that helps not only bands, but the students at Webster get real-life experience."
Touring drummer Jonathan Goldstein, a former Greenville College (Ill.) student, accompanies Bay, Neff and Chafin to complete Highway Headline. Goldstein spent two years drumming for national act fun. before joining Highway Headline.
"With fun., they already had a following from the very first show I played with them," Goldstein said. "I was just a touring musician. I didn't get any creativity rights. With Highway Headline, it's different in a great way. It was a chance to do it on my own terms."
Though the band has been together less than a year, its members take experience from previous bands and bring it to Highway Headline's music.
"I think we're just starting to hit our stride and really getting a strong stage presence," Bay said. "It was cool to look up and see some people who I'm like, 'Hey, you're not my family and you're singing along.'"
At The Firebird, Highway Headline played songs from its self-titled EP along with a cover of "Mr. Brightside" by The Killers. Bay broke two strings during the set from playing. Supporting acts at the show included Makeshift Prodigy and All Get Out.
Highway Headline is demoing new music in hopes of releasing a full-length album this summer.
Share this post